Headed to The Netherlands and looking for the best day trips from Amsterdam? Wanna get out of the city to see a bit more of what the Netherlands has to offer? Well- look no further! Keep reading for some fab additions to your Dutch adventure!
Amsterdam is the Netherlands' capital city, and no doubt its most famous. Bristling with beautiful canals, historical buildings and decadent stroopwafels, Amsterdam has something for any and every kind of traveller.
Nevertheless, the Netherlands is a whole lot more than just Amsterdam, and if you have the time to spare, the rest of this bike-friendly country deserves to be seen! If you're looking for something a little less touristy, and a bit more authentic, take a day (or more!) and set out to explore one of the following Amsterdam day trips- you'll be glad you did!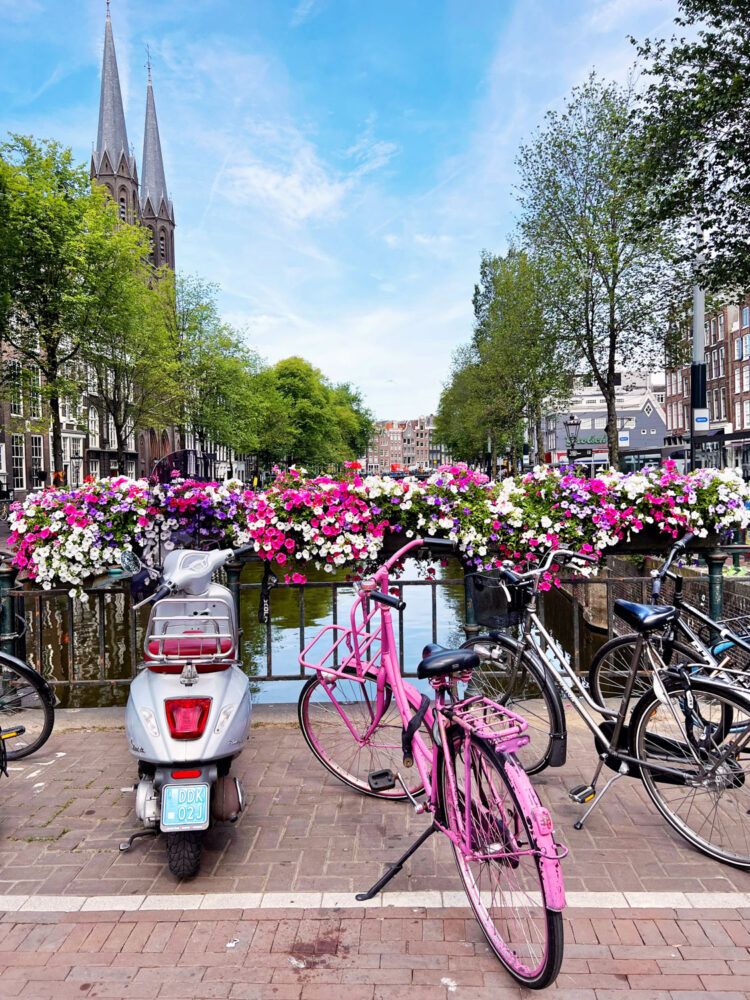 Psst: Since I haven't spent as much time as I would have liked to in the area, checking out all these Amsterdam day trips was nearly impossible (cue the sad face)! Thankfully, Samantha from Intentional Detours shares with us some of the best day trips from Amsterdam, as she's much more experienced than I am with all things Dutch!
Enjoy, and bring me back a stroopwafel (or two, or three).
Read Next: The Ultimate One Day in Amsterdam Itinerary!
Best Day trips from Amsterdam, The Netherlands
1 | Keukenhof
Distance from Amsterdam: 40 km/ 25 miles
Activities you can't miss: Explore the surrounding fields by bike
One of the largest flower gardens in the world, Keukenhof lights up with a display of over 7 million tulips each and every spring. The "Garden of Europe" (as its known in English) is open for visitors from early March through late May, with flowers being at their best and brightest around April.
If you happen to have your own car, it's about a thirty minute drive, or alternatively its extremely easy to reach via public transport. While no trains run directly out to Keukenhof, it's still reachable by public transit. Buses run from Amsterdam Schipol Airport, and as of 2019 direct buses now make the journey from Central Station. (Hint: It's easiest to just buy the combined bus + admission ticket!)
With 89 acres to its name, Keukenhof is no small garden. While it can only be traversed by foot, the surrounding, often-overlooked gardens are best explored by bike. Bikes can be easily rented for 10 euros at rental shops, if you so wish.
Open 7- days a week from 8:00am to 19:30pm, the park is said to be the least busy Monday- Wednesday, and from 10:30 am to 16:00 pm. With so many bulbs to see and so many pictures to take, give yourself ample time for this trip-one of the best (and most colorful) day trips from Amsterdam!
2 | Zaanse Schans Windmills
Distance from Amsterdam: 16.5 km/ 10 miles
Activities you can't miss: Zaanse Museum, Spice tasting, Albert Heijn Museum Shop, Cycling
Located a stone's throw from Amsterdam, it doesn't get more quintessential than these charming, historical windmills. A 40 minute bus ride, or alternatively a 17 minute train ride + 15 minute walk, Zaanse Schans is close enough for any itinerary.
The Zaanse district is a representation of times' past- the Industrial revolution led to the creation of the area back in the mid 1900's. The windmills, farm houses and foot paths create a bucolic scene of begone Dutch life- and who doesn't love a scene straight out of a storybook?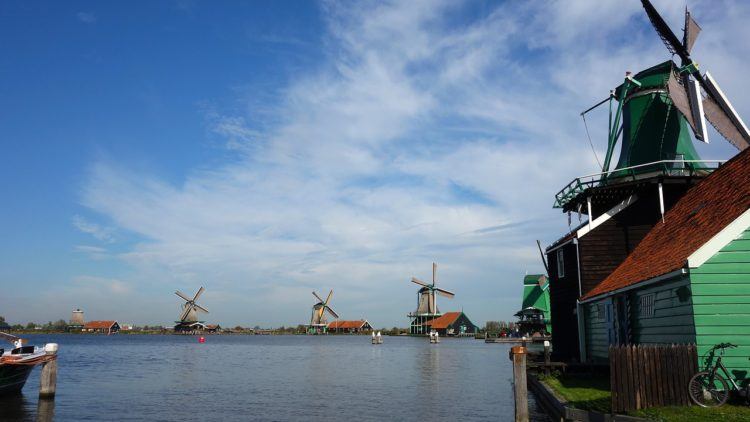 While not every attraction is open every day, the majority remain visitor-ready from 9-5pm. Rent a bicycle and coast along the windmills, and then explore one of the numerous museums. Zaanse boasts seven, so surely you'll find one worth a tour! If boats are your thing, numerous expeditions set sail daily around the windmills and beyond, something especially swell whilst visiting in warmer temps.
For those sweet tooths out there,be sure to finish out your day with a massive Dutch pancake at Pancake Restaurant De Kraai, which clocks in at a delectable 29 cm! (Y'all, this is not to be missed!) With its close proximity and cool charm, these classic windmills would truly be a shame to pass up.
3 | Edam, Marken, Volendam
Distance from Amsterdam: 21 km/ 13 miles
Activities you can't miss: Edam Wednesday Morning Market, Museums, Canal strolls
Food you can't miss: Seafood!
A mere 30 minutes from the city lies what is known as Waterland, a charming collective of three villages that are one of the best Amsterdam day trips for those looking to see the real "Old Holland." Since the three villages are tiny, a day is plenty to fit them all in.
Bus 316, which departs from behind Amsterdam Centraal will take you directly over to Volendam, and if you have the i Amsterdam City Card, you can get a free ferry ride over to Marken.
Volendam
Volendam is a small, sleepy fishing village still rooted in tradition- expect to see some women still wearing classic Dutch bonnets! Having been around since the 1300's, Volendam is rich in history, all of which is displayed in its signature museum. If you're a seafood lover, this is the town for you as fish is a-plenty at the many restaurants along De Dijk or Het Doolhof, two of the maze-like old quarters.
Marken
Marken can be easily reached via a ferry from Volendam. With a population of less than 2,000, this village is small but definitely worth a stroll. Due to past flooding, the residents built their homes on poles and knolls, something super unique to Marken and definitely a sight to see! The picturesque lighthouse, and the informative Marker Museum welcome visitors daily. If you have time, stop by the clog making workshop as well to see a bit of local culture in action.
Edam
Cheese lovers, your time has come! Edam, located about 8 minutes from Volendam, is a true paradise for all kinds of the yummy yellow stuff, with a rich past to boast as well. An exporter of it since the golden ages, be sure to take a peek at the 18th-century cheese warehouses that still stand today.
The town puts on a cheese market every Wednesday, which is said to be best during July and August, as that's when farmers bring their cheese by the boatload from surrounding areas. If you're all cheesed-out, be sure to check out the Edam Museum, or simply stroll along the fairytale-like paths and canals.
More Amsterdam day trips, coming right up!
4 | Bruges
Distance from Amsterdam: 252 km/ 157 miles
Activities you can't miss: Belfry of Bruges, Belgian chocolate sampling, Visiting the Markt, Groeningemuseum
Foods you can't miss: Frites, beer, waffles
A three hour train ride from Amsterdam will take you out of the Netherlands to the neighboring country of Belgium, and more specifically, Bruges! Bruges is the capital of the Flemish region of Belgium, and is listed as one of the most romantic cities in Europe. Bursting with centuries worth of history and idyllic architecture, it's well worth crossing the border for!
Being significantly larger than some of the other possible trips, you'll have to pick and choose from a long list of what you'd like to fit into your day in Bruges. Luckily, there is no shortage of options! Love history? Check out the "leaning" Belfry Tower- a medieval bell tower that rewards those who make it to the top with vast views of the city.
Love to eat? The Markt, or Bruges' main market, is surrounded by beautiful colored buildings and tons of food stalls. If you love chocolate, or desserts for that matter, you can't leave Bruges without savoring some Belgian chocolate or waffles! Chez Albert- Gauffres is said to have some of the best in town.
Love beer? Bruges is widely known to have some of the best brews in the world. You can thank the Belgians for that! Check out this list for some of the best spots to "crack open a cold one".
Just want to browse? The Historic Centre of Brugge has been deemed a UNESCO World Heritage Site. This seriously perfect area is overflowing with canals, cobblestone paths, and medieval and gothic style buildings. Definitely worth some looks!
If you leave early enough, you should have plenty of time to get a lot of of Bruges- the best day trip from Amsterdam for those who want to get the most out of this historical region of Europe.
5 | Giethoorn
Distance from Amsterdam: 119 km/ 74 miles
Activities you can't miss: Boat tour, admire the homes, visit a museum
A truly picture perfect village, Giethoorn is ideal for those who crave serenity, and long of simple times past. A 1.5 hour drive from the Dam, its remote enough to give you a rural feel while still close enough to be a day trip.
Like Venice, Giethoorn is filled to the brim with canals and completely devoid of cars! Its name actually comes from its inhabitants' discovery of hundreds of goat horns in the marshland. While there might not be any goats, the water still remains, making this the absolute perfect place to laze away on a boat tour, steer your own canoe, or even paddle cycle!
You can easily rent your own electric boat that requires no boating skills to operate- one restaurants along the canal can help you get floatin'. Giethoorn is also the perfect place for photographers- the quaint homes and canals couldn't be more instagrammable if they tried. It's super easy to get your boat set up the day of, but if you'd rather plan ahead, this website can be used for reservations.
While it is possible to visit via bus, it's a much better idea to rent your own car if you only have one day. And, if you have the time, I recommend staying at least a night. Evening and early mornings, (when the crowds thin out,) tend to be the best time to peacefully explore the village!
6 | Rotterdam
Distance from Amsterdam: 78 km/ 48 miles
Activities you can't miss: Food market, architecture admiration (the cube houses!)
The sleek and shiny city of Rotterdam sits along a major port in the South of the Netherlands. A bit more modern than Amsterdam, this South Holland metropolis is a great change of scenery, and is only an hour train ride away.
Once you arrive in Rotterdam, you'll be sure to notice its seriously awesome architecture. The Erasmus Bridge and the Cube Houses are just two of the highlights of this quirky city- a city that was completely rebuilt after it was reduced to rubble back in 1940.
So, it shouldn't be a surprise that its art scene is alive and VERY well. Museumpark is a great starting point for the various attractions and galleries Rotterdam has to offer- The Netherlands Photo Museum and Museum Boijmans Van Beuningen are two of many to choose from.
Looking for a cool place to eat or drink? Witte de Withstraat, an entire strip, is full of trendy brunch, happy hour and dessert spots. Witte is known for its contemporary art scene- many walls are completely filled with artwork!
With limited time and so many things to do, see and eat, it's tough to narrow it down. But if you consider yourself a foodie, you MUST visit the famous Markthal. This massive market has dozens upon dozens of food stalls. (I know I could spend all day there! ) If you really love food, there's even a Rotterdam food tour you can join here!
7 | Delft
Distance from Amsterdam: 68 km/ 42 miles
Activities you can't miss: Nieuwe Kerk church, Explore the canals, Pub hopping
Like most day trips from Amsterdam, Delft is reachable by train- and only a one-hour long one at that! This 750-year-old city is known for its numerous canals, all of which were "delved" out way back in the 11th century.
With 75 bridges, it's easy to get lost walking around its picturesque nooks and crannies. If you're not keen on walking, take a one-hour long boat tour through the waterways, a relaxing and easy way to learn more about the rich historical events that have made Delft into what it is today.
This charming city is known for being the home of the famous Dutch painter Johannes Vermeer. Signs and information about Vermeer's life are plastered everywhere, so they're impossible to miss.
If you're into old churches, be sure to pass by Oude Kerk (Old Church), which happens to be the burial site of Vermeer as well as an ancient relic- it was built in 1246! Delft also boasts Nieuwe Kerk (New Church), which is a bit "younger," but just as impressive. It soars above the Markt, a main square that is teeming with all types of shops and eateries.
Speaking of shops, if you're in Delft, there's no way you won't see Delftware pottery just about everywhere. The traditional blue and white pieces can be bought new or as replicas, and if you're really into this particular artistry, the Royal Delft factory puts on daily workshops and demonstrations.
Looking to unwind after all that history? Well, beer lovers, is this the place for you. As far as this list goes, Delft is easily the best day trip in the Netherlands one can take for all things ale. (Not including Bruges, that is.)
The amount of craft choices can almost be overwhelming- in fact Delft's first industry was actually brewing! Klooster has the largest array of speciality beers in the city, and Cafe Kobus Kuch brews Delft's original beer "according to the ancient recipe." Anywhere you walk though, you'll be sure to find some type of pub- so get searching!
8 | The Hague
Distance from Amsterdam: 64 km/ 40 miles
Activities you can't miss: Scheveningen, Peace Palace, Grote Markt
Foods you must try: Authentic Indonesian cuisine, seafood
Located on the coast of the North Sea, this maritime city is most famously known for being the home of the UN's International Criminal Court & Court of Justice. While the Hague is many things, lacking in bureaucracy is definitely not one of them.
Seeing that it's only 15 minutes away from Delft, the two can potentially be lumped into one day, but if not, definitely two. But where to start?
The Peace Palace is over 100 years old and is home to the aforementioned International Court of Justice, as well as the Academy of International Law. Its superb grounds and stunning architecture are worth a peek!
I'd also encourage a pass through the Binnehof- this complex, located in the oldest section of the Hague, sits along the water and has origins dating back to 1250. While you're getting your history on, don't miss the King's Working Place (Noordeinde Paleis). Yes, The Netherlands still has a king and yes, he does still work! (When the king is in, the palace's red flag is raised.)
Aside from all of the history and fancy government buildings, the Hague is known for being the only major city in the Netherlands that's on a beach. Take a stroll along the Scheveningen Resort area down its boardwalk or along one of the North Sea's beaches. The SkyView de Pier is a cool ferris-wheel style observation deck- stop here if you're looking for a drink or meal with a view.
If you're just looking to peruse and perhaps grab a bite to eat, make your way over to Grote Markt or Plein- the Hague's two main squares. Trendy shops and bars/ restaurants fill this area- making it a great place to end a perfect day trip from Amsterdam.
And there you have it! Eight of the absolute best day trips from Amsterdam that are guaranteed to make you love this idyllic country even more. Which one would you try? Any I might have missed? Let me know in the comments!