Booked tickets to Brazil and planning a 3 days in Rio de Janeiro itinerary?! You're in luck, because this post will share exactly that, plus the top things to do in Rio, Brazil as well!
So you've decided on an exhilarating 3 days in Rio de Janeiro. Welcome! Now what? Well, you need a carefully planned out Rio de Janeiro itinerary, of course!
First things first, let's begin with the basics! Rio de Janeiro is a city that is located in the state of Rio de Janeiro (confused yet?) and has a population of around 11.5 million people.
The city itself is pretty big, with four districts:
Zona Sul (South zone)
Zona Norte (North Zone)
Zona Oeste (West zone)
Centro (the center)
The summer months of Rio (where temperatures can get as high as 40 degrees celsius) are from December – March, while the winters are from June – August. Nevertheless, the winter season still has warm weather, almost never dipping below 15 degrees celsius.
Packing for Rio de Janeiro, therefore, should be easy. Think warm summer clothes plus a couple of warmer pieces, like a sweater and a pair of jeans. Although, during the summer months, those pair of jeans might be left unused. Days and nights in Rio de Janeiro are spent in flip flops and shorts. If need be, bring wedge heels, but leave those sky high stilettos at home, this is a beach town after all!
Most travellers will probably stay in the south zone, which is where the famous Copacabana and Ipanema neighborhoods are located. If you do want to stay in the south zone, we would recommend Ipanema, or Leblon, if you really want to splurge.
If you are looking for something that is a little different with a dash of bohemian charm, then the Santa Teresa is the neighbourhood for you. For a splurge-worthy experience, we recommend the Hotel Santa Teresa and if you are looking for something a little budget friendly then try Casa Dois Irmaos or the Sant'Matre, located just steps from the main square.
Finally, before we go into the specifics of any 3 days in Rio de Janiero itinerary, remember that Brazilians speak Portuguese and not Spanish. That means gracias is replaced with obrigada (if you are a woman) or obrigado (if you are a man). Other common phrases are:
Bom dia: Good day / hello
Boa Noite: Good night
Vamos tomar uma caipirinha: Let's have a caipirinha
Onde fica seu banheiro?: Where's the bathroom?
Posso ter …: Can I have ….
Quanto custa isso?: How much is this?
Note that those coming from the USA will need to get a Visa before traveling to Brazil. And thankfully there's an easy way to get these! Apply for a Brazil eVisa for US citizens right over there and get on your way! It's that simple!
Ok, let's begin our 3 days in Rio itinerary!
The Perfect Rio de Janeiro Itinerary
Day 1: Arrival
Morning/Afternoon
Arrival will probably be at the Aeroporto Antônio Carlos Jobim, also known as Aeroporto Galeão. Nearly all international flights arrive at this airport, which is located 15 km north of the city center. Once you arrive, you have a couple of options for leaving the airport depending on your budget.
From the airport, Premium Auto Ônibus (R$14) buses run approximately every 30 to 40 minutes to Flamengo, Copacabana, Ipanema, Leblon and other neighborhoods. Radio taxis charge a set fare of R$130 to Copacabana and Ipanema (45 to 90 minutes). Less-expensive metered yellow-and-blue comum (common) taxis cost between R$60 and R$90.
Relax on your first day and take it easy. Adjust to the time-change, if you have to, and head over to Ipanema beach to soak up the beautiful Rio sun. Why not Copacabana? The Copa water is a little too dirty due to its proximity to Guanabara Bay.
Make sure to keep an eye on your items on the beach and leave all important documents and your passport locked up back in your accommodation. Bring cash and settle near a barraca (tent) where you can rent an umbrella or chair and where you can order cold beers, caipirinhas and even some finger food.
Once the sun starts to wane, pack up your stuff and head back to your hotel/hostel for a shower and a quick change before heading out again for an night on the town.
Evening
Following the theme of the day, take it easy. Head over to Copacabana and walk down the sidewalk, stopping by the numerous small markets along the way.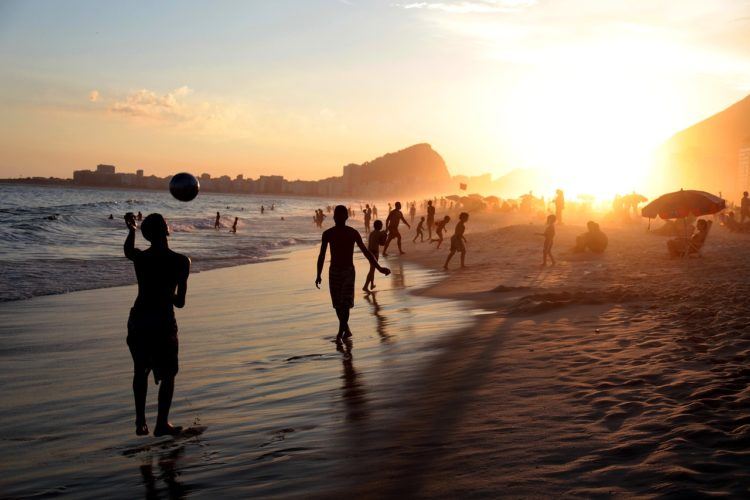 Stop at a kiosk and order a caipirinhas before heading over to our favorite local restaurant in Copacabana, Braseiro, a quaint spot with roasted chicken, fries, farofa (toasted cassava flour mixture) & vinaigrette. End the night with a chop (glass of beer) just down the street at Boteco Belmonte.
Boteco Belmonte: R. Domingos Ferreira, 242 – Copacabana
Brasiero: R. Domingos Ferreira, 214 – Copacabana
Day 2: Christ the Redeemer, Parque Lage & The Botanical Gardens
Morning/Afternoon
Start the day early with a trip up to Christ the Redeemer if the weather is beautiful. If you want to go up to Christ the Redeemer via train or van, we recommend that you buy tickets beforehand at one of the Riotur kiosks which are in Copacabana on Avenida Atlântica in front of Rua Hilario de Gouveia or in the city center on Rua da Candelaria, 6, (open 8 am until 7 pm) or online at the official site. The prices include the train up, back down and the entrance to the Christ.
For adults (including students) – R$61 at low season. R$74 at high season (high season includes weekends and holidays all year round).
Then head over to Parque Lage for lunch. Parque Lage is a public park located in the Jardim Botânico neighborhood at the foot of the Corcovado. The land was formerly the residence of industrialist Enrique Lage and his wife, singer Gabriella Besanzoni. Inside the Parque Lage mansion is the Parque Cafe, the perfect stop for brunch and coffee before you set off to the Botanical Gardens.
Two kilometres away from Parque Lage is the Jardim Botanico (the Botanical Gardens), a 137-hectare garden that is home to over 800 plant species and designed by the order of the Prince Regent Dom João.
If this all sounds too complicated, there are many tours that offer all of this with the inclusion of transportation. You can ask us (Now in Rio) and/or your accommodation providers for the best tour companies within the city.
We would skip the trip back to the hostel/hotel and instead go straight to Escadaria Selarón, also known as the 'Selaron Steps." One of the most beautiful things to see in Rio de Janeiro, these world-famous step are the work of the Chilean-born artist Jorge Selaron, who said it was his tribute to the Brazilian people.
Evening
Since you are already in the Center, either walk up to Santa Teresa, take the bonde (Santa Teresa yellow tram) and/or cable car or if grab a taxi (R$7). Once you get up to Santa Teresa, take a small walk around the main square (Largo dos Guimarães).
Santa Teresa is one of the best places for boutiques that are filled with locally-made trinkets, paintings, clothes and more. Visit Tucum, a store that sells aboriginal items and where the proceeds go directly back to the communities.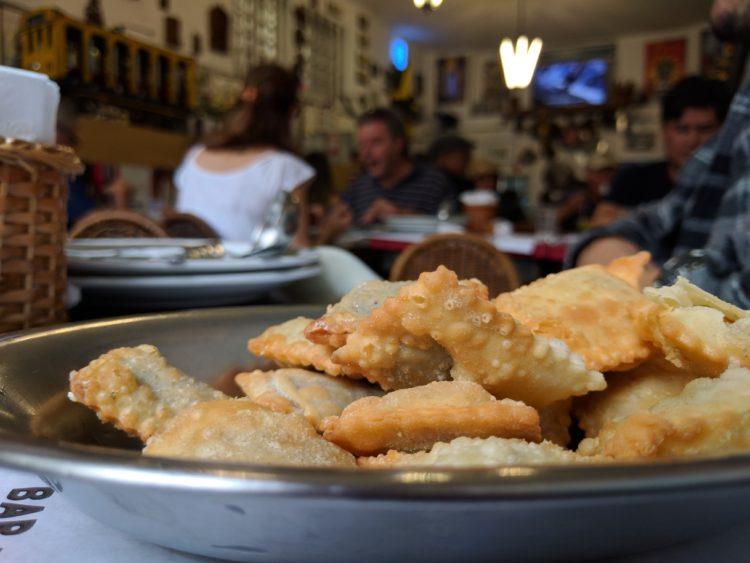 Then go to the Bar do Mineiro, an iconic local bar known for its feijoada, pastéis & cachaça, set in a modest neighborhood home. Feijoada is a bean stew that is filled with pork and beef. It is served with rice, farofa and orange wedges.
Bar do Mineiro: Rua Paschoal Carlos Magno, 99 – Santa Teresa
Day 3: Live Like a Local & SugarLoaf
Morning/Afternoon
It can be hard walking around Rio de Janeiro by yourself and I understand that people can be confused about what to do and where to go. Therefore we recommend going on a live like a local-type tour with a Rio guide. We've often teamed up with Bromelia Travel, who offers a great three hour "Live Like a Local Tour."
Start off in a padaria (bakery), where Lauren (the owner) will explain the local pastries and goodies. We recommend getting an acai before heading to the Uruguaiana market in the Center.
Now, for those that are new to Rio and don't speak the local lingo, Uruguaiana Market is a huge market filled to the brim with whatever your heart wants and desires. We then end the tour at the Royal Portuguese Reading Room, a library that holds the largest and most valuable collection of Portuguese literature outside of Portugal. You can also do this tour by yourself if you want to wander alone!
Then take a taxi or UBER to Sugarloaf and head-up. The cable cars leave the ground station next to Praia Vermelha. The first stop is Morro da Urca. From there, you can take another cable cart to the Sugarloaf. Take your time!
At Morro da Urca you can relax and take advantage of the restaurants and/or snack bars (try some pao de queijo) before boarding the second cable car to the Sugarloaf mountain. Each stage of the cable car takes just three minutes and the cable cars depart every 20 minutes.
After you're done, take a 15-minute walk from Praia Vermelha beach to Bar Urca. Go to the bar, order a chilled beer and some snacks and take it across the street to sit on the wall that overlooks the bay. If you miss the sunset at Sugarloaf, try to catch it here. It's not as dramatic but it's certainly one to remember.
Bar Urca is easily one of our favorite places for a chilled drink and a few empadas (Brazilian pies) or a cheese pastel.
Bar Urca: R. Cândido Gafree, 205 – Urca
Evening
But don't eat too much! Because from there, catch a cab/UBER to one of the most famous churrascarias in Rio de Janeiro: Fogo de Chão Botafogo. Picture this, a bottle of red wine, a all you can eat salad bar and an army of waiters with different cuts of meats that come up to your table and place them on your plate. Come hungry. Leave satisfied with meat sweats. Expect to pay a little more for this experience, but trust us. It's worth it. F
Fogo de Chão Botafogo: Av. Reporter Nestor Moreira, s/n – Botafogo
Depending on the days you come to Rio de Janeiro, there are day specific events. The most notable events are:
The Hippie Fair. The fair happens every Sunday from mornig to evening in General Osorio square in Ipanema. It is filled to the brim with local merchants selling everything and anything you can imagine
Lapa. If you love samba and caipirinhas, then you should go and enjoy them under the gorgeous white arcs of Lapa on Friday (better day) and/or Saturday
Pedra do Sal. Did you know that samba was born in Rio de Janeiro? On Monday nights, people meet at the Pedra do Sal to enjoy drinks and samba.
Anyone headed to Brazil soon?! What on this 3-day Rio de Janeiro itinerary are you most excited about?!
Thanks to Yvonne Ivanescu of Now in Rio for this fantastic 3 days in Rio guest post! Now in Rio is a travel and culture website that provides comprehensive information about Rio de Janeiro for both tourists and anyone interested in travel and/or Brazil. It seeks to change perspectives, shatter stereotypes, and introduce you to the real Rio de Janeiro – its vibrant communities, delicious local cuisine, thriving underground culture and unbelievable scenery. To follow their adventures, visit their website, Facebook and/or their Visit Brazil Facebook group.