Heading to Spain soon and looking for the best things to do in Seville?! Look no further, my friend, this page was written just for you!
Ever wanted to experience more of the culture of Spain?! Seville (or Sevilla in Spanish), in the region of Andalusia, absolutely NEEDS to be on your travel itinerary. Seville has an exciting history reflected in its oh so many beautiful buildings, which is a result of the wealth created as a trading port in the middle ages (yea, that long ago!) Some of the best things to do in Sevilla include visiting three of these impressive buildings, now deemed UNESCO sites and loved by many. And of course, experience the best of Flamenco along with trying as many flavors of tapas you can find (to be eaten with wine of course).
I visited Sevilla last summer for a short 48 hours during my two weeks in Spain and Portugal, and am itching to go back! Thankfully, my friends over at TravelKiwis have put together this fantastic guide for you to convince you to go learn about the city and share their favorite things to do in Seville! After reading through this post, I am certain a return trip to Spain better happen sooner than later! Enjoy!
[divider style="thin" title="" text_align=""]
But first, here is a quick pre-travel guide on how to prepare yourself for the best things to do in Seville.
Seville Pre-Travel Guide
When to Go to Seville
Seville is a beautiful city to visit and is so much more enjoyable when the daily temperature is not extreme. That's why visiting in April and May or late September to October is pleasant, with sunshine and warmth during the day, and the nights a little cooler. If you can, try and avoid the months June to August as the heat can be unbearable. It's also a busy period for tourists to visit the city.
[divider style="thin" title="" text_align=""]
How to Get Around Seville
The ideal option to see the best of Seville is walking, as many of the places to visit are pedestrian friendly. But if you are short on time, then the Hop on Hop Off bus covers most of the 15 best things to do in Seville within a day. Or, how about a carriage ride? With your driver acting as your tour guide, a carriage ride is a pleasant way to experience the highlights of Seville.
[divider style="thin" title="" text_align=""]
Important Things to Pack
A pair of good walking shoes or comfortable sandals is always a must for a traveller. And with the moderate temperature, it's more comfortable to wear layers with a lighter pair of trousers. You will find the Sevillians are chic, so bring a scarf or two to accessorise your look for the evening. Also, a light jacket to enjoy your evening tapas outside of the busy summer months.
[divider style="thin" title="" text_align=""]
Where to Stay
With so many options of hotels or Airbnb in Seville, we can recommend staying in the area of Santa Cruz. This historical area is within walking distance of the 15 best things to do in Seville. And, with so many excellent restaurants and tapas bars in the old streets and plazas of Santa Cruz, makes it a great place to stay.
Check out Santa Cruz hotel reviews and prices here.
[divider style="thin" title="" text_align=""]
Important Phrases
We love to show respect to the locals in the cities we visit by learning a few essential phrases. Here are some to get you started.
Good morning – Hola
Good day/evening – Buenos Dias
Good night – Buenas Noches
Please, or to attract the attention of a waiter – Por favor
Thank you – Gracias
And if you're feeling extra ambitious and want to learn a bit more, consider picking up a Spanish/English phrase book (only $3) before you go!
[divider style="bold" title="" text_align=""]
Things to do in Seville
1. Wander through Santa Cruz Quarter
If you love wandering through narrow, cobblestoned medieval streets, then the Santa Cruz quarter ticks all the boxes. This medieval quarter was once home to Jews, Muslims and Christians, living near each other during the rule of King Fernando III. Be a little nosy and take a glimpse through the large doors or grilled entrances into the courtyards beyond.
[divider style="thin" title="" text_align=""]
2. Look inside the magnificent Seville Cathedral
Make sure you purchase a ticket to visit the third largest cathedral in the world. This magnificent cathedral completed in 1517, although work on the interior only finished in the 20th century. The cathedral became a UNESCO site in 1987 and features 80 chapels and the tomb of Christopher Columbus. What makes it unique, is it incorporates a mosque finished in 1198 on the same site.
[divider style="thin" title="" text_align=""]
3. Climb the Giralda Bell Tower
If you are feeling energetic, then take a climb up the Giralda Tower which was once part of the Almohad Mosque. The tower reached 104 metres and was used for the call to prayer when the Moors ruled Seville. It is a steep climb up the ramps and was why donkeys were used to carry the man assigned to perform the call to prayer.
[divider style="thin" title="" text_align=""]
4. Enjoy the Beauty of Plaza de Espana
"Wow" was our first impression of this beautiful plaza built for 1929 Latin American Exposition. With water and fountains to enthral you, make sure you take a walk along the front of the large verandas to read the tile tablets of historical events. The plaza is busy with people enjoying the views from the large verandas or taking a rowboat on the waterways.
[divider style="thin" title="" text_align=""]
5. Drink Sangria at the Hotel Alfonso XIII Luxury Hotel
Why not spoil yourself and enjoy a Sangria at the Hotel Alfonso XIII Luxury Hotel. Just sitting here, you could imagine how the elite enjoyed this luxurious hotel built in 1929 for the Latin American Exposition.
[divider style="thin" title="" text_align=""]
6. A Must-See is the Real Alcazar of Seville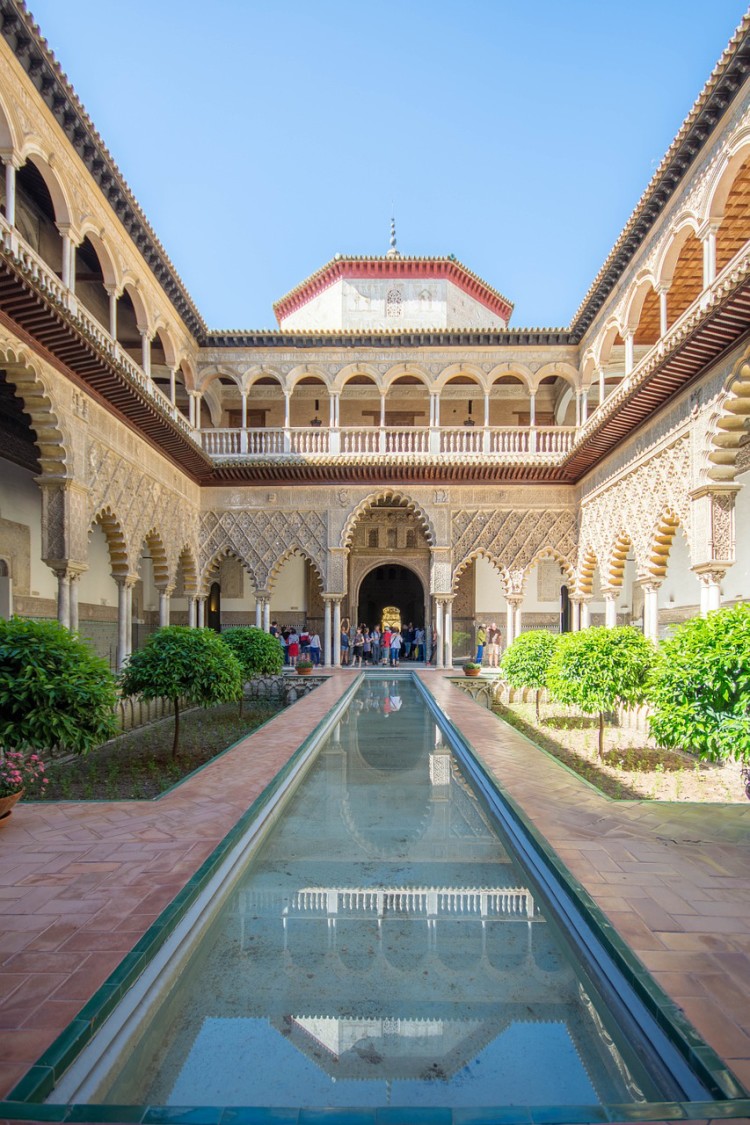 One of the 15 best things to do in Seville is to visit The Alcazar of Seville. For over 1000 years it has been a royal residence and is still has this use today. This beautiful residence showcases an interior of Moorish and Gothic architecture with some of the rooms decorated with exquisite tiles. Perhaps it is no surprise why the Alcazar was chosen to film The Game of Thrones.
Make sure you book ahead to visit the Alcazar with a guide who can describe the long history of the Alcazar. Including the room where Christopher Columbus met to discuss the voyages of discovery.
Don't Miss the Baths of Lady Maria de Padilla. Make sure you don't leave the Alcazar without exploring underneath the Patio del Crucero to find the rainwater tanks named after the Lady Maria who was the mistress of Peter the Cruel. The baths were initially a garden with a perfect temperature to avoid the heat of the day.
[divider style="thin" title="" text_align=""]
7. A History Lesson at the Archives of the Indies
It's easy to see how wealthy Seville was in the middle ages with a visit to the Archives of the Indies. This stunning Renaissance building was once the merchant's exchange building where merchants would conduct their trade transactions between Spain and America. The building got its name from the Indies as Christopher Columbus thought he had discovered India, not America. The building became a UNESCO site in 1987.
[divider style="thin" title="" text_align=""]
8. A view of the Bullring the Real Maestranza
If walking along the Guadalquivir River, you will notice the impressive building of the Maestranza. Built as a bullfighting ring in 1749 the ring holds 12,000 seats. Today the bullfighting season is from April until September and is one of the best-known festivals in the world.
[divider style="thin" title="" text_align=""]
9. Torre del Oro
Along the banks of the Guadalquivir River, you will find the Torre del Oro, also known as the Tower of Gold. So why is it called the Tower of Gold? Well, it's because of its reflection it gives on the Guadalquivir River. So, make sure you climb to the top of this early 13th-century tower to have a look.
[divider style="thin" title="" text_align=""]
10. Find Plaza Nueva
Time for a break and the perfect place is here in the Plaza Nueva. Just look for the statue of Fernando III who reconquered the city of Seville from the Moors in 1248. This plaza is an excellent place for families to enjoy picnics and games, but also a perfect spot for you to take a moment to appreciate the daily life of Seville. Definitely one of the best things to do in Seville if you're looking for some relaxation.
[divider style="thin" title="" text_align=""]
11. Real Fabrica de Tabacos de Sevilla
Now, this is an exciting building to stop and explore. Why? When the Spanish discovered tobacco in America, they were quick to build this factory where they turned tobacco into snuff. And if you have ever seen or heard of the opera Carmen, this was the factory depicted in the opera. However, in the 1950s it was decided to move the tobacco factory to another location. The building then became The Universidad de Sevilla.
[divider style="thin" title="" text_align=""]
12. Remember to look Down for NO8DO
As you walk along the pavements of Seville, you can't help but notice the sewer covers decorated with the coat of arms for Seville. The symbol is a little unusual even though it dates to the 13th century. The legend says King Alfonso X awarded this coat of arms for their support against his son who was trying to usurp him. The symbol means, the city has not abandoned me.
[divider style="thin" title="" text_align=""]
13. Experience the True Flamenco
One of the best things to do in Seville is to book a traditional Flamenco show. An authentic Flamenco will have you enthralled with the passion of the dancer, the guitarist and the singer. You will feel drawn into this story dating back to medieval times.
[divider style="thin" title="" text_align=""]
14. Mercado Lonja del Barranco
Food, food and more food is what you will find here at the fresh food market of Seville. We always love wandering through the market halls of cities to see the local specialities, trying new foods and flavours. So, make sure you include the Mercado Lonja del Barranco as one of your best thing to do in Seville.
Hot Chocolate and Churros
We can never resist a delicious hot chocolate, especially of an evening. So, we were keen to try a variant here in Seville of a thick hot chocolate with churros. The churros are freshly fried dough you dip into your hot chocolate, making it the perfect complement for an evening treat.
Tapas
Although there are plenty of bars and restaurants offering tapas, we would recommend you try the smaller bars of Santa Cruz. If you take a walk down some of the narrow streets, you will find yourself emerging into small, quaint plazas set with tables and chairs. Or you could walk across the Puente de Isabel II to Triana. Here the selection of local tapas will have your taste buds ready to enjoy the local flavours along with a local beer.
[divider style="thin" title="" text_align=""]
15. International Cuisine of Plaza Alameda
You will probably see Plaza Alameda before you reach it. What do we mean? Well, it's the foreboding Roman columns at each end of this massive square. This area was transformed in the late 20th century to become the nightlife hub of Seville. With many bars and restaurants scattered along the edges of the plaza, you can spoil yourself by enjoying traditional Andalusian food, but also a vast array of international dishes.
[divider style="thin" title="" text_align=""]
16. Metropol Parasol
If you have time, a short walk away from the main Seville sights, is the 26 metre Metropol Parasol. This large wooden structure is made up of 6 parasols on four levels with its shape representing a mushroom. It is an impressive structure and a different form of art to explore.
[divider style="thin" title="" text_align=""]
Day Trips from Seville
If you are looking for day trips from Seville to explore more of the Andalusia region, we have a few we can recommend. Cadiz is only 1.5 hours by fast train and offers an old city to explore plus beautiful beaches. To find out more about Cadiz, click here.
While Huelva isn't as spectacular as Seville, it is the port with a history of Christopher Columbus and only 1.5 hours by fast train. And if you enjoyed the beauty of Seville's Alcazar, then a 45-minute fast train to Cordoba will have you in awe of the Alcazar of Cordoba, some say the best in Spain.
Have you been to Spain before?! What were your favorite things to do in Seville?