Heading to Cambodia soon and looking for the best things to do in Phnom Penh?! Welcome, my friend, you've made it to the right place! Read on for an entire travel guide to the city and get your Cambodia planning on!
Every year travelers flock to Cambodia to experience this incredible country – And for good reason! Cambodia boasts sights of immense historical significance such as the temples of Angkor, as well as the wonderful wilds of the East and relaxed beach life of the South, there are tons of awesome things to see and do in this magical country.
However, a place that is often overlooked by many travelers is the country's capital, Phnom Penh.
Situated on the banks of the Mekong River and home to amazing cultural and historical sites of its own, Phnom Penh really shouldn't be missed! Indeed, there is a lot going for this busy, bustling, and boisterous capital city.
I haven't made it over to Cambodia just yet (I have been to Thailand and Japan, though), so I asked my friend Danny who blogs over at Coddiwomp to share his favorite things to do in Phnom Penh with us all! Enjoy!
Here are 15 of the best things to do in Phnom Penh, Cambodia, but first, let's start with some of the basics!
[divider style="thin" title="" text_align=""]
Pre-Travel Guide to Phnom Penh, Cambodia
How to Get Around Phnom Penh
Moving around Phnom Penh is no easy feat! It's a hustling and bustling capital city; a hive of activity at all times, with vehicles, people, and many of animals competing for space and speed.
Consequently, by far the easiest method of transport for a traveler in Phnom Penh is by tuk tuk. The drivers are everywhere and they all know the city and main tourist sites like the back of their hands.
However, just be careful of being scammed. Drivers, trying to make ends meet, will often try to overcharge the ignorant traveler. As a rough rule of thumb, think $1 (USD) for a 5 minute trip and don't accept the first price that's offered to you.
However, you might also consider going by foot.
This alternative is not for the faint of heart (typical rules of the road seem not to apply in Cambodia!) and it can obviously get tiring over longer distances, but it provides a great alternative that enables you to see things at a slower pace and feel more ensconced in this lively, busy city as a result.
[divider style="thin" title="" text_align=""]
Important things to pack
Mosquito repellent and bite cream
Something of a must in Cambodia just generally, it's a good idea to have some decent insect/mosquito repellent to help prevent getting bitten, as well as bite cream to soothe the ones that still get through!
Hand sanitizer
I always find hand sanitizer to be a useful item to have on me when I travel. And, in Phnom Penh, where standards of hygiene and cleanliness are sometime different to those of the West, it can come in especially handy.
Something to cover shoulders and knees
There are many sacred and holy sites in Phnom Penh where it is respectful (and often obligatory) to have your knees and shoulders covered.
Because of this, make sure you wear appropriate clothing, or have something to slip on over the top of your outfit, such as a shawl or light scarf.
In some places (such as the Royal Palaces), if you don't, you'll be asked to purchase a t-shirt before entry and won't be allowed in if you choose not to.
Small change
The US Dollar is now the main form of currency in Cambodia, though it is still possible to pay in Riel (the traditional money of the country).
Where you'll frequently be paying for relatively low cost things like food and tuk tuk rides, it is a good idea to have smaller bills on you. Where the ability to offer change can be limited, paying for a $2 journey with a $50 note just won't be fair for the vast majority of locals!
[divider style="thin" title="" text_align=""]
Where to stay in Phnom Penh
You're spoiled for choice with accommodation options in Phnom Penh. There are literally hundreds of potential places to stay, with something for everyone.
Prices vary according to location and quality, but you can find budget hostel accommodation for as little as £2 (circa $3 USD) per night (Riverside Backpackers), to middle range hostels for around £5-8 (circa $7-12 USD) per night (Eighty8 Backpackers), up to more expensive hotels.
I can recommend Eighty8 Backpackers as a great place to stay in Cambodia. The price is fair, comes with breakfast and has a cool bar with outdoor pool and seating area.
[divider style="thin" title="" text_align=""]
When to go to Phnom Penh
Peak season in Cambodia, meaning higher prices and number of tourists, is from November and March. Off-peak is generally May through early October, which is cheaper and less busy, but also a lot wetter, with the monsoon season really kicking off in August/September/October time.
However, temperatures remain fairly warm throughout the year and even in the monsoon season you can still find good weather in amongst the showers and storms.
[divider style="thin" title="" text_align=""]
Important phrases
The main language in Cambodia is Khmer, though in main cities like Phnom Penh you'll find that many people do speak English. However, learning some key phrases will help for the remote parts of Cambodia, as well as endearing you to locals wherever you are.
Hello – hom reap sour (formal)/ susadei (informal)
Goodbye – chom reap lear (formal)/ lee hi (informal)
Thank you – Arkun
Yes – Bah (male)/ chaa (female)
No – Ot-teh
Sorry/ excuse me: Som dtoh
[divider style="thin" title="" text_align=""]
15 Things to Do in Phnom Penh
In no particular order, here are 15 top things to do when you're in Phnom Penh, Cambodia.
1.Chill out on the Mekong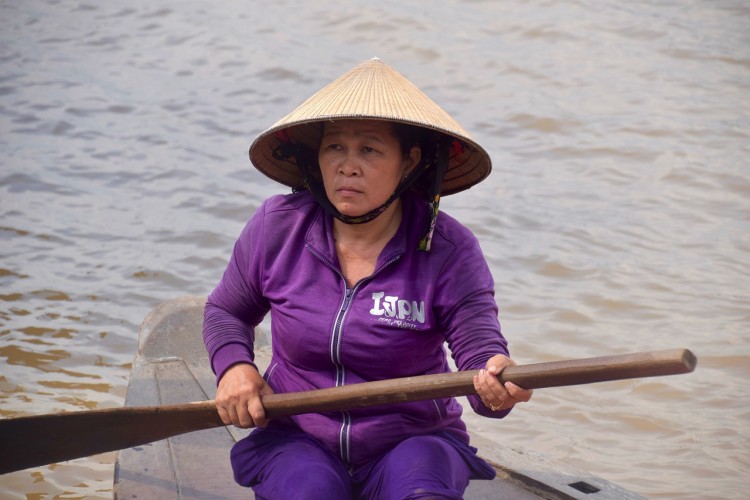 The mighty Mekong River, which flows for 2,700miles through South East Asia, is an amazing spectacle. Phnom Penh sits at the meeting point of the Tonle Sap and Mekong Rivers and offers an amazing view of this natural wonder.
Walk along the river front, stopping to eat and/or drink at the bars and cafes that line its banks; watch locals exercise at the numerous exercise stations, or pay for a boat cruise to take you onto the river itself.
2. Head to the Night market
The night market has a buzzing, lively atmosphere that, as you might expect, comes alive in the evenings in Phnom Penh.
It is situated in a prime location next to the river and attracts tourists and locals alike, all of whom come to sample the street food and clothing stools that abound here.
There's also a stage that hosts local talent, including singers and traditional dance too.
3. Visit the Royal Palace and Silver Pagoda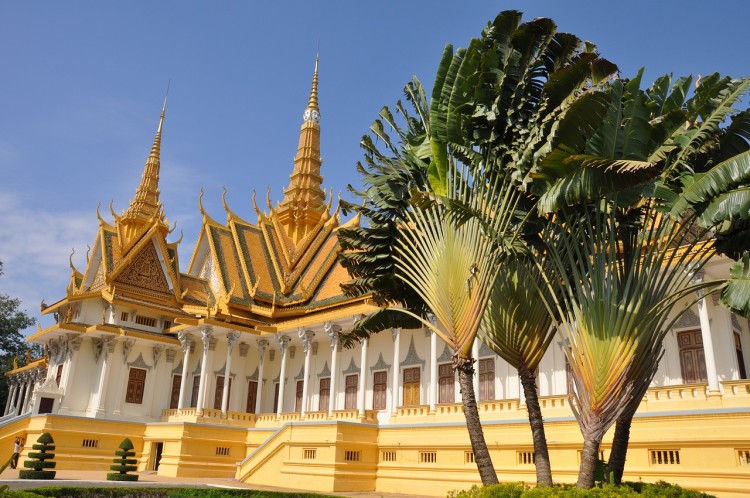 Home to the King of Cambodia, a trip to Phnom Penh isn't complete without a visit to the Royal Palaces. This is one of the main tourist attractions of the city and, though somewhat overpriced (now $10 USD entry for foreigners), is still worth seeing.
There are numerous buildings inside the Palace compound, all of which are impressive in their own right and characterised by beautiful ornate roofs and grand monuments.
A particular building of note is the Silver Pagoda, one of Phnom Penh's major temple attractions that houses national treasures of gold and jewelled statues of Buddha.
4. Sample the street food
You're spoiled for choice with street food options in Phnom Penh! Head around every street and you'll find vendors and restaurants selling all manner of wonderful local food and delicacies.
Depending on how adventurous you're feeling, you can also sample the many edible insects that are cooked and on offer for you to enjoy! I've heard the tarantulas are particularly appetising…
5. Walk the streets
Among the many options for things to do in Phnom Penh, a simple pleasure is to simply walk the streets and get to know the real city.
Walking around is always a fantastic way to get to know a new place and, if you're able to avoid the treacherous traffic that buzzes around the streets, the same is true in Phnom Penh.
Of course, stay safe, but why not get off the main tourist track and immerse yourself in all the city has to offer. Wander down and get lost among the meandering side streets, get talking to the locals and find the little gems that haven't been logged in Lonely Planet Guides.
6. Head to the Killing Fields of Choeung Ek
Man's fascination with darkness and acts of atrocity is there for all to see in the Killing Fields, just outside of Phnom Penh, which have become one of the main tourist attractions in Cambodia.
This is a dark site, where men, women and children were lured under false pretence, murdered and buried in mass graves by the Khmer Rouge. The skulls of many of them have been put in a huge glass monument in the centre of the area.
It's a peaceful, if sombre place now, where you can pay for the 'privilege' of walking around, listening to the horrifying stories of the people who suffered here on the audio guides available.
There's a small museum and picture house too, where you can learn more about the Khmer Rouge and what happened. It's a bizarre place that makes you wonder if it should really qualify as a tourist 'attraction'.
7. Tuol Sleng Genocide Museum
What was once a high school, Tuol Sleng (otherwise known as Security Prison 21, or S-21) was turned into a famous detention and execution site by the Khmer Rouge during the 1970s.
Here, over only a small number of years, about 17,000 prisoners were held, interrogated, tortured and executed.
It's now a museum where you can visit, look around and learn more about the appalling acts that took place here.
8. Go to the National Museum
It'll cost you another $10 USD, but the National museum is another great tourist attraction in Phnom Penh. Head inside to learn more about the remarkable history of Cambodia and get up close to hundreds of statues and incredible pieces of masonry taken from the sacred temple sites of Angkor.
9. Visit Psar Thmei (The Central Market)
The central market is a giant, art deco building that's worth seeing from an architectural stand point as much as for the market situated there!
The huge domed ceiling is an impressive spectacle to behold and beneath it you can shop the glistening stalls of jewellery, gold, food and other souvenirs of interest.
10. Amble around the Russian Market
Earning its name from its popularity with Russian expats in the 1980s, the Russian Market is a sensory experience that shouldn't be missed.
The dense, tightly packed interior is literally jammed to the rafters with goods such as clothing, bags, souvenirs, jewellery and food.
It is hot, sweaty and crammed full, but equally atmospheric and 100 percent worth exploring.
11. Get access to the rest of Cambodia
Phnom Penh is a great place from which to explore the rest of Cambodia as many bus companies operate from here and the road system connects it to essentially every other part of the country.
As such, use it as the doorstep to the other parts of Cambodia you're desperate to visit.
12. Take a traditional cooking class
Another cool opportunity in Phnom Penh is to learn traditional Khmer cooking techniques. It's a popular activity among tourists and travellers looking for a culinary experience in Cambodia.
You can often book the classes through your accommodation and spend an afternoon with a chef who'll show you the ropes of Khmer cooking. Learn all about the spices, ingredients and cooking techniques used by the locals and pros.
13. Visit Wat Phnom
Wat Phnom is a Buddhist temple in Phnom Penh, situated just off the river and atop a 27 metre knoll. It's an impressive landmark that draws hundreds of people each day.
The pagoda is of some significance and it is old too: according to legend it stretches all the way back to the 14th century.
Head up the grand Eastern staircase to wander around the temple at the top, enjoying the heavy scent of incense in the air and marvelling at the countless Buddhist statues within.
14. Workout with the locals in the Olympic stadium
Early morning group aerobic workouts are a novel experience in Cambodia! All around the country locals come together at different times of the day, but commonly in the early morning or early evening, to do an exercise regime.
It's a lovely, if sometimes humorous, thing to see. And, even better, you can take part in them yourself! In Phnom Penh you can head to the Olympic stadium at early in the morning or evening to partake in this particular activity.
15. Watch a traditional dance show
Watching a traditional Cambodian dance show is another cool cultural activity to consider in Phnom Penh. Held at the National museum, they aren't free, but are meant to be colourful and musically and visually enthralling things to see.
So there you have it, 15 of the best things to do in Phnom Penh, Cambodia!
For anyone travelling here I urge you to spend at least a couple of days sampling the many attractions there are to experience in this awesome city!
[divider style="thin" title="" text_align=""]
Have you been to Cambodia before?! What were your favorite things to do in Phnom Penh?
Bio: Danny Newman is a travel enthusiast with a passion for writing and inspiring others. He runs a blog called Coddiwomp, which is dedicated to helping aspiring travellers travel for the first time. For Danny, the essence of travel is found in the feeling it elicits. He wants to inspire and support as many people as possible to experience this 'travel feeling'. You can find him on Facebook @coddiwomp and Instagram @coddi_womp.