Heading to Australia and looking for the best things to do in Darwin?! You're in luck, my Aussie-loving mate! Come check out the many possibilities of things to do whether you have a week or just a weekend in Darwin!
I've had a bunch of readers asking me about tips for traveling around Australia… only problem with this is that I haven't been yet! Thankfully, I've enlisted Melissa from Thrifty Family Travels to share with us her favorite things to do in Darwin, Australia!
Pre-Travel Guide to Darwin
When to go to Darwin
Simply put, there are two seasons in Darwin – dry and wet. Despite having two distinct seasons, temperatures are fairly similar year-round, ranging from the low 20's to low 30's C. The difference is in the humidity, which can make the weather appear drastically different.
During the dry season the humidity is relativity low, making the climate very comfortable, whilst in the wet season the humidity can be extremely high making it hot and sticky. The dry season is from May to October and is the most popular time for tourists to visit Darwin. It can get a bit cooler during the months of May to July with temperatures during the evenings getting down to around 17 c.
The wet season is from November to April and brings monsoonal rain – but the rain is not continuous, and the average storm lasts no more than 20 to 60 minutes, making the wet season still a great time for tourists to visit. During October to December there are often storms with spectacular lighting shows, which are fantastic to watch from the safety of the beach side restaurants and bars.
How to get around Darwin
For all the things to do in Darwin you can easily get to most of the attractions by foot. However, if you want to visit attractions out of town you will need to have your own car, join a tour or grab a taxi. You can also use the hop on hop off bus if you prefer an easier option.
Where to stay in Darwin
Located in the heart of the Darwin city centre, the Melaleuca offers great budget backpacker accommodation. The rooms do not contain a TV or fridge but are quite spacious with all the conveniences of a backpackers such as laundry, kitchen, a bar and pool on site. There is also off-street parking. Click here for rates and availability for the Melaleuca on Mitchell.
Located next door to Melaluca on Mitchell, the Value Inn offers great budget accommodation. Rooms are small and basic but provide everything you need, with a small fridge, tea/ coffee making facilities and a TV. There is off street parking and a small pool too. Click herefor rates and availability for the Value Inn.
And what you've been waiting for, some top things to do in Darwin, Australia!
Things to do in Darwin
1. Crocosaurus Cove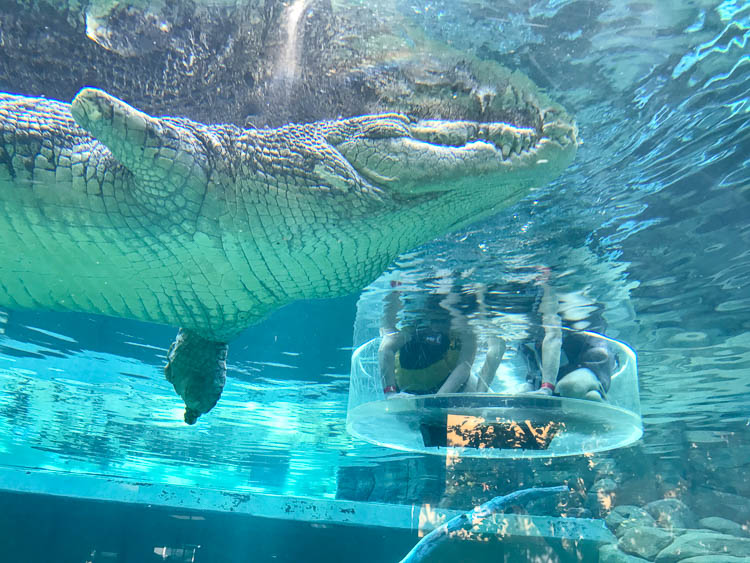 Top of the list for things to do in Darwin would have to be checking out crocodiles. So whilst in Darwin you must check out Crocosaurus Cove in the CBD. Here you can view some of Australia's largest salt water crocodiles from 3 levels, including the ability to watch the crocodiles from beneath, which is a unique experience.
If you're really brave you can take part in the Cage of Death which involves getting into a glass cylinder that is a lowered into the crocodile enclosure for 15 minutes.
If this isn't your cup of tea, it is still awesome to watch others from below go into the water with the crocodiles.
2. Mindil Beach Sunset Markets
If you are in town on a Thursday or Sunday evening between April and October, then one of the best things to do in Darwin is to head down to the Mindil Beach Sunset Markets, which as the name suggests have the backdrop of the tropical Mindil beach. Here you will find delicious international food, crafts, arts and lots of street entertainment.
Try food from a variety of countries such as Turkey, Greece, Sri Lanka, South America, North Africa, India and all over South East Asia. Eat and relax whilst enjoying entertainment from live street theatre, magicians and local and international buskers. This is a fantastic spot to watch one of Darwin's spectacular sunsets, so make sure you get there before sun down. The Mindil Markets are seasonal as mentioned above and are between the hours of 4 pm to 9 pm.
3. Darwin's Waterfront
Located next to the Darwin CBD is the waterfront precinct, where you will find a variety of outdoor cafes, restaurants, bars and various tourist attractions as well as lovely grass areas to relax. The Waterfront attractions, such as the Wave Pool and safe swimming Recreation Lagoon are very popular. Entry to the recreation lagoon is free but there is a small admission fee to the wave pool.
4. Darwin Harbour Cruise
Many harbour cruises leave from the Stokes Hill Wharf to see the wildlife both above and below the water. The sunset cruises are particularly popular where passengers can enjoy seafood buffets whilst watching spectacular sunsets across the harbour.
Some of the boats appear more casual serving fish and chips on picnic like benches, whilst other boats are more luxurious with individual set tables serving Champagne as passengers boarded.
Interested in learning more about Australia? Check out these quotes about Australia!
5. Deckchair Cinema
If you are after one of the more relaxed things to do in Darwin, along the Esplanade is the Deckchair Cinema – an open-air cinema screening popular movies. Sit on low back deck chairs with cushions providing extra comfort and relax with food and drinks you can purchase onsite at various food stalls or bring your own in form of a picnic. Don't forget the insect repellent!
Tickets can be purchased online. The cinema is only open during the dry season which is between April and November, where it operates every night with movies starting at 7.30 pm.
6. WWII Oil Storage Tunnels
For all the history buffs, located on the Darwin waterfront, this attraction is very educational. You can go into the tunnels and learn how they were built following the bombing of the oil storage tanks during WWII. There are various displays which provide information during your self-guided tour. The tunnels are open daily and entry cost are as little as $8 for adults.
7. Darwin Military Museum and Defence of Darwin Experience
Another great excursion for the history intrigued is this attraction. Located in East Point about 15 minutes' drive from the Darwin CBD is the Darwin Military Museum and Defence of Darwin Experience. The museum utilises the stories of actual people involved in the conflict to add a human element and detail Darwin's role in World War II through objects from the bombing of Darwin, firsthand accounts and multimedia presentations.
8. Crocodylus Park
Located 15 minutes out of the Darwin CBD is Crocodylus Park where you will get yet another opportunity to see the famous Australian salt water crocodiles, but in a more natural setting compared to Crocosaurus Cove. The park is home to over a thousand crocodiles, of various sizes and ages. A great way to the see the crocodiles is via the boat cruise which navigates its way through the man-made lagoon. During the cruise, you will see a variety of flora and fauna with educational commentary.
Crocodile feeding tours are also held throughout the day. The park is also home to a variety of other wildlife including tigers, lions, monkeys, birds, kangaroos and other reptiles.
09. Jumping Crocodile Cruise
If you want a more interactive natural experience when it comes to getting up close and personal to these marvelous creatures, then there are several cruise operators that take travelers out to see crocodiles in their natural habitat. The Adelaide River is home to over 1600 crocodiles and during the cruises, the guides showcase a range of different sized crocodiles as they dangle some food over the river and the crocodiles leap spectacularly in the air.
10. Tiwi Islands
This is a great day out to experience yet more wildlife and some beautiful islands; take a tour to the Tiwi Islands to see a variety of birds, explore dense rainforests, sandy beaches and rock pools. Bird watchers will love seeing the wide variety of bird life including crested terns, the endangered Tiwi Hooded Robin, Red-necked Stint and Bar-tailed Godwit.
Offshore marine life includes whales, dolphins, dugongs, turtles and more than fifty species of fish. The Tiwi Islands are famous for Aboriginal arts and crafts, so ensure your trip to the islands includes a stop at an art centre where you can see artists at work and purchase local art and craft.
11. Robin Falls
Robin Falls is a gorgeous waterfall located just outside Litchfield National Park near the township of Adelaide River. It will be wise to do this as a day trip to allow for travel and give you time to have a relaxing and joyful day. You can access the falls via a short walk following a crystal-clear creek through scenic bushlands. Bring your swimmers as you can take a dip in the waterfall. Robin Falls is only accessible during the dry season and entry is free.
12. Territory Wildlife Park
The Territory Wildlife Park is located 40 minutes' drive from Darwin close to the Berry Springs Nature Park and so makes a great day trip. The Park is divided into 3 different habitats being the wetlands, monsoon vine forest and the woodlands.
Each distinct habitat showcases numerous animals in a variety of habitats. There is also a great birds of prey presentation featuring some of the Northern Territories best birds of prey. The park is open daily and entry costs $32 per adult.
For the following things to do in Darwin, I would highly recommend you put a few days aside for each destination, however if you are short on time it is possible to visit these during a day trip from Darwin.
13. Litchfield National Park
Visit the lush Litchfield National Park in the heart of Australia's Northern Territory and explore Australia's heartland. Here you'll be able to see towering termite mounts, cascading waterfalls and the rich greenery of Litchfield, which is very popular with campers and & wakers alike attracting around 260,00 visitors each year.
With just one visit here you will see why so many people choose to relax amongst the abundant wildlife and enjoy the midst of these wonderful natural surroundings. You can also visit the charmingly historic town of Batchelor, rich in culture and with friendly locals manning several delightful little cafes.
14. Kakadu National Park
Kakadu is almost 20,000 square kilometres in size and is one of Australia's true bucket-list items. Due to its enormity you will not be able to see all it has to offer in one day. But none the less a great day trip will include a packed itinerary full of adventure. As Kakadu is rich in both nature and culture, on a day tour you will gain a glimpse of the many wonders that the World Heritage listed Kakadu National Park has to offer.
You'll venture into the heart of Kakadu, taking in highlights such as the spectacular Nourlangie Rock to view ancient Aboriginal rock art, you'll embark on a Billabong Cruise on the Yellow Water, keeping an eye out for the many varieties of amazing wildlife such as crocodiles, large birds and more. You should visit the Warradjan Aboriginal Cultural Centre to learn more about the history and traditions of Australia's original inhabitants before.
15. Katherine Gorge and Edith Falls
By far one of the most popular Top End destinations, Katherine Gorge is made up of thirteen individual sandstone gorges each carved from billions of years of erosion. With several local highlights, you'll be amazed at the natural beauty that this region possesses.
On a day tour with the help of an expert guide you'll receive great commentary of the region as you pass through Nitmiluk National Park and Edith Falls as well as viewing traditional Aboriginal Rock Art.
You can also have the choice of embarking on a cruise along Katherine Gorge which will provide spectacular views of the surrounds and the chance to spot some local wildlife.
Thanks, Melissa! // Melissa is the creator and writer for the Thrifty Family Travels website; which details her family's travels both locally and across the globe. Together they travel the world, experience new cultures, indulge in local delicacies, and explore every corner of our beautiful earth, navigating their way around the world. T
hrifty Family Travels hope to inspire other families to travel and to show them all the fantastic places the world has to explore.