Looking for the best things to do in Riga, Latvia? You've made it to the right place! This post was made just for you! And if you're looking for ways to fill up a long weekend in Riga, you'll find lots of itinerary inspiration below!
You know those places you've never heard about until you stumble upon an Insta or Pinterest post? Yeah… that was Riga (and Latvia as a whole) for me. When I visited Europe last summer, the country was (unfortunately) not on my radar in the least bit, and now I'm dying to make my way back to the continent to visit the city. Thankfully, all the best things to do in Riga are listed down below so you don't make my mistake!
And when a new spot gets added to your bucket list but you literally know nothing about it? You ask local Latvia-lover Kaspars, whose website is aptly named We Are From Latvia. Pretty fitting, right? Pull up a seat and get ready to learn about the city from the very best, as well as learn about the best things to do in Riga!
Psst: after reading this, you'll be adding a whole slew of places to see in Riga to your Northern European itinerary! You'll see!  😉
[divider style="thin" title="" text_align=""]
Riga Pre-Travel Guide:
WHEN TO GO
Latvia has four seasons – spring, summer, autumn, and winter. Summer, early autumn, and winter (in particular January and February) is the best time to visit Riga. Even though weather in general has been changing in last decades, it's the least predictable in spring, when it can be nice and sunny, and it can be also snowing and raining heavily for days on end.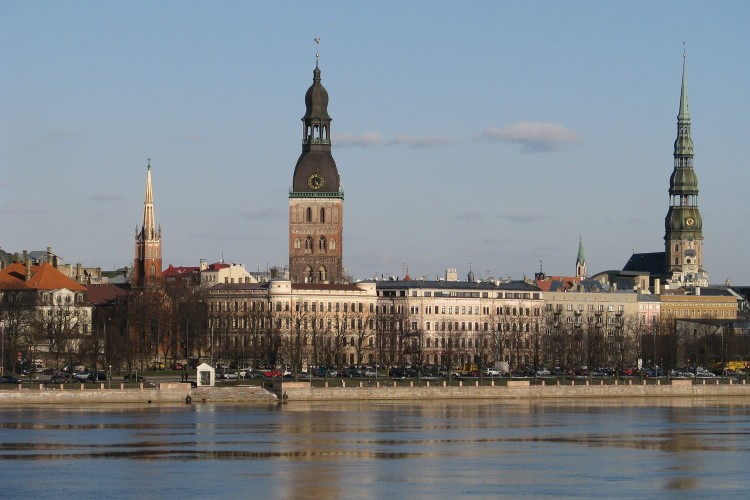 If you like snow, go to Riga in late January or February. Then take a bus or train out of the city, and in less than an hour you'll get to see a real winter wonderland. However, if you don't like snow and cold weather, your best bet would be to visit Latvia in summer. July usually is the warmest month, with temperatures around +25 C / 77 F and sometimes even higher. Early autumn tends to still be pretty warm and nice. And if you head out of the city at that time of the year, you will see the leaves change their color from green to all different shades of yellow, red, and orange.
[divider style="thin" title="" text_align=""]
HOW TO GET AROUND
Public transportation modes in Riga include buses, trams, trolleybuses, and minibuses. Most of them are operated by one Riga city municipality owned company "Rīgas satiksme". And to make it easy, you can use the same ticket for all of them.
Currently (2017), a single 1 trip ticket costs 1.15 euro. But 10 trips? Just 10.90 euro! If you are spending just a weekend in Riga, it makes sense to get a 24-hour ticket for all routes. It costs only 5 euro and you can purchase it from a ticket vending machine at the bus stop by the Riga International Airport. The same ticket can be used to travel from the airport to city center and back. Basically, a great value for the money.
When you have a choice, take a tram, because they usually are the fastest and will get you to your desired location within the city in the least amount of time.
[divider style="thin" title="" text_align=""]
IMPORTANT THINGS TO PACK
Latvia is a Northen European country = the weather can (and will) change quite quickly. Whenever you are traveling to Latvia, it's a good idea to pack some warm clothing (at least a sweater and pants) and rain jacket or umbrella. And if it rains, it can be rather cold during the summer as well (no warm rains here). If you are visiting Riga during the winter, always be sure to check the weather forecast beforehand.  Temperatures have been known to drop to around  -30 C / -22 F, although it's rarely that cold nowadays. Be prepared though! You don't want to be freezing your butt off exploring all the things to do in Riga.
[divider style="thin" title="" text_align=""]
WHERE TO STAY
Riga Old Town (in Latvian: Vecrīga) is by far the most central part of Riga, and one of the most interesting ones as well. It's very easy to get there, airport bus stops only few hundred meters away, and you can get everywhere from Riga Old Town. Not surprisingly, it's packed with hotels, hostels, bars and restaurants, and is filled with tourist places in Riga. It's not a problem to find a double room for about 50 euro. Two good choices include: Boutique Hotel Monte Kristo and Amber Rooms.
If you are traveling on a tight budget, note that a bed in dorm can cost as low as 5 euro per night, in a hostel located in Riga Old Town.
Up Next >> The best things to do in Riga and what to see in Riga, whether you are coming only for a weekend or as part of a longer trip to Latvia (highly recommended!).
[divider style="bold" title="" text_align=""]
Fun Things to Do in Riga: The Riga Must-Do's
1. Wander Around the Old Town
One of my favorite things to do in Riga is simply wandering around the Old Town of Riga. Whether it's a nice and sunny day, or even if it's cloudy, a walk around Riga Old Town is always a good idea. It's not too big of an area, only about 1 kilometer long, but it's a really pretty one. And it's safe there. Narrow cobblestone streets and buildings centuries old will make you feel like you've traveled back in time. With many restaurants and bars scattered all around the area makes it a great choice for some lunch or dinner.
I mean, just look at how adorable those buildings are! Right out of a fairy tale!
Apart from being the most central and one of the most beautiful places to see in Riga, it's know also for its nightlife as well!
[divider style="thin" title="" text_align=""]
2. Get a Bird's-Eye View of Riga from St. Peter's Church Tower

Situated in the Riga Old Town, St. Peter's Church is easy to get to, and by far one of the best attractions in Riga if you're a fan of spectacular city views (me, me, me!) Thankfully, getting to the top is easy as well, since there's an elevator to take up! Although the entry ticket is a bit pricey at 11 euro, the views from the top are totally worth it. No wonder it's among the top 10 things to do in Riga, as voted by Tripadvisor users (and myself!)
The Church Tower is open every day, except for Mondays, so plan accordingly, especially if you'll only have 2 days in Riga.
[divider style="thin" title="" text_align=""]
3. Shop at Riga Central Market
With an area of about 72,000 square metres (778,000 square feet), the Riga Central Market is one of the biggest outdoor markets in Europe and one of the best places for groceries in the city. And even better? Most of the products you can buy here come from local farms, meaning you'll be getting the best quality!
Aren't into shopping? Don't fret – head to Riga Central Market anyways to get a glimpse of the unique mix of Eastern and Western European cultures! Or have lunch and try Latvian cuisine at Siļķītes un Dillītes restaurant.
[divider style="thin" title="" text_align=""]
4. Visit Latgalite Flea Market
Situated almost next to the Riga Central Market, Latgalite, as its called by locals, is yet another market, where you should go even if you aren't interested in shopping. Its post-soviet type of atmosphere is what makes it special. There you can buy anything from Soviet records and old books to iPhones.
[divider style="thin" title="" text_align=""]
5. Walk Down Albert Street
This street in Riga city centre, only a few blocks away from Riga Old Town, is known for its historical Art Nouveau buildings. The street is a pretty short one, but all the buildings there are just so picturesque and, well, unique!
Many call Albert street Riga's Art Nouveau gem. Go and check it out! It's certainly one of the most unique things to do in Riga!
[divider style="thin" title="" text_align=""]
6. Take a Boat Tour to See Riga From Another Perspective
There are boat tours run on the Daugava River, and then there are tours that take you to both Daugava and also to Riga Canal. Try the latter! A canal boat tour starts from the Bastion Hill, close to Latvian National Opera and Riga Old Town, is 1 hour long and costs about 20 euro or so.
It's clearly one of the best things to do in Riga if you're looking for some epic river views, and something I would recommend to everyone.
[divider style="thin" title="" text_align=""]
7. Go to Agenskalns
Agenskalns is a district in Riga, situated on the left bank of the Daugava River (with Riga Old Town being located on the right bank). Head to Agenskalns to check out its beautiful wooden architecture. In the past few years, the area has become more popular also because of Kalnciema Quarter, a territory where various cultural events are being held.
[divider style="thin" title="" text_align=""]
8. Go for a Stroll in One of Riga's Many Parks
Latvia is one of the world's greenest countries with forests covering almost half of the territory – with Riga being an absolutely green European capital! There are quite a few parks located around the city, with the most popular ones being Bastion Hill, Vermanes Garden Park, Victory Park, and Lucavsala Island. The latter is an island on the Daugava River, few bus stops away from the Old Town, and an absolute must-do in Riga.
[divider style="thin" title="" text_align=""]
9. Visit Mezaparks and Kisezers
Literally translated, Mezaparks means "forest park". It's the biggest park in Riga, about 10 kilometers away from Riga City Center, but is still easily accessible using public transportation. Tram 11 will take you all the way from the Riga Old Town to Mezaparks, at its last stop.
Riga Zoo is located there as well. And the park itself is by Kisezers Lake, where you can also go for a swim. Otherwise, it's a really nice and peaceful place for long walks and/or activities like roller skating and cycling, perfect for some relaxation time during your long weekend in Riga!
[divider style="thin" title="" text_align=""]
10. Go Wakeboarding in Riga City Center
Wakeboarding in the city? Yes, it's possible in Riga.
Riga Wake Park is located in the central part of Riga, on Lucavsala Island, not far from the Riga Radio and TV Tower (the tallest tower in the European Union and you can clearly see it from far away – there is a public observation platform at 97 meters with outstanding views of the city below). Speaking about the wake park, it's a cable wake park. You can rent a gear there. And they have qualified professional instructors on site as well.
And if you don't want to wakeboard, rent a SUP and go paddleboarding.
[divider style="thin" title="" text_align=""]
11. Cycle to Jurmala
Jurmala is Latvia's most popular resort city. And what a better way to get to Jurmala than by bicycle! There is a bikeway all the way from Riga to Jurmala, with the total distance being about 30 kilometers one way. In case you get tired and don't want to cycle back, there are trains connecting Jurmala to Riga. And you can take a bicycle on the train (don't you love when cities make exercise easy?!).
Sixt public bicycle rental company is the most popular in Riga. Look for their bicycle stands and get peddling!
[divider style="thin" title="" text_align=""]
12. Go to One of the Lido Restaurants to Try Latvian Cuisine
Lido restaurant chain is one of the best options in Riga to try Latvian cuisine. And thankfully, it's very easy to find them. At Lido they serve mostly Latvian food, which, as they are saying themselves – is cooked like at home. So you can't go wrong ordering almost anything. However, my recommendations are: mashed potatoes with cottage cheese and herring (yes, this), grey peas (most probably with speck) and some of their cold soups, if you are traveling to Riga in summer.
[divider style="thin" title="" text_align=""]
13. Visit Riga's Museums
Had enough of the parks or visiting Riga on a rainy day? Thankfully, there are several interesting museums in Riga.
Recently renovated Riga Motor Museum (go there if you like antique motor vehicles), The KGB House, File No.1914/2014 (KGB was Soviet political secret police, and this building – their Latvia's headquarter; go there to learn more about these dark times of Latvia's history) and Ethnographic Open-Air Museum of Latvia, where you can see how people where living in Latvia centuries ago are all great options if you're looking for things to do in Riga when it rains.
[divider style="thin" title="" text_align=""]
14. Go Ice Skating
If you are traveling to Riga in winter, you will definetely see at least a few public ice skating rinks, with most being available for use for free! You'll only need to rent a pair of skates, unless you have them with you. One of the best things to do in Riga during winter, as it's a relatively inexpensive activity and tons of fun!
[divider style="thin" title="" text_align=""]
15. Chill on the Beach
Visiting Riga during summer time? You're in luck – Riga is less than 20 kilometers away from the sea! The nearest beaches are Vecaki and Vakarbulli, both of which are reachable by the city's public transportation. And it doesn't even cost extra. Let'say, you have a 24-hour ticket for all routes – you can use the same ticket to get to the beach. Bus number 24 goes to Vecāķi, bus number 3 – to Vakarbulli. Yes! Beach time!
[divider style="thin" title="" text_align=""]
Recommended Tours in Riga:
Have you been to Latvia before? What were your favorite things to do in Riga?!