If you're looking for things to do in Majorca, you've come to the right place!
I visited Barcelona last summer, and have big plans to visit much more of the country in a few weeks, but unfortunately won't be making it down to the islands.  Therefore, I've asked my friend Abby from The Winged Fork to spill her secrets on this stunning little Mediterranean island. Psst – its now high on my bucket list. Guess I've gotta make a return trip to Spain sooner than later!
[divider style="thin" title="" text_align=""]
You say 'to-may-to', I say 'to-mah-to'! You say 'Ma-jor-ca', I say 'Ma-llor-ca'! Ah, but the differences in the English spelling (Majorca) and the Spanish spelling (Mallorca) don't make a difference to the beauty and the adventure that is Majorca. Or should I say Mallorca. 😉
Located in the Balearic Islands off the East coast of Spain, this small island of 1405 square miles (3640 kilometers) has so much to see and do, you could spend weeks here. But given that most of us don't get enough time off work and want to pack as much as we can into our short holidays, here's a list for you of the 15 best things to do in Majorca.
[divider style="thin" title="" text_align=""]
Pre-Travel Guide
Best Time to Go to Majorca
If you love the sun, then the best time to visit is from July to September. The clear skies and warm sunshine make for the perfect weather. If like me you're okay with taking off your jumper one minute and putting it on the next, then April to June are pretty good too. The sun and the wind take turns having their fun with you. If you want to avoid the tourists, visiting Majorca during winter is great. The island has a Mediterranean climate, so the winters are mild with not too much snow.
Where to Stay in Majorca
Majorca being a tourist destination has many options for lodgings – hotels, B&B's, Couchsurfing, Airbnb, etc. Couchsurfing is a bit difficult though because it's a famous island with so many tourists. I stayed at an Airbnb with my sister that was pretty close to my brother and sis-in-law's finca. There are also so many luxurious places to stay at near the beaches, the mind reels.
What to Pack
Sunscreen! A lot of sunscreen! I ran out of sunscreen halfway through the trip and had to buy something locally. It didn't go well with my skin and I returned home looking like a roast pigling, all pink and brown. If you're going in summer, all you need is plenty of light clothing – t-shirts, sun dresses, shorts, swim wear, caps, and the usual beach holiday stuff. Deodorant, if you're hiking in the 26 degree Celsius heat –  you need that! What about your portable bicycle case. If you're a biker, jump for joy, since Majorca is known for its thousands of biking tourists. And don't forget your camera!
Getting Around Majorca
There is local transport – buses and trains to get around, but quite a few of the touristy locations are not accessible by local transport. So when you think about things to do in Majorca, you realize that you might need to hire a car to get around. There are quite a few car rental agencies right at the Palma de Majorca Airport itself, that will give you access to a car in less than an hour's time.
[divider style="thin" title="" text_align=""]
Things to do in Majorca, aka Mallorca
When you're trying to decide what you want to see and do, there's so much out there, it's overwhelming. Which is why I've created this shortlist of 15 best things to do in Majorca.
1 | Tramuntana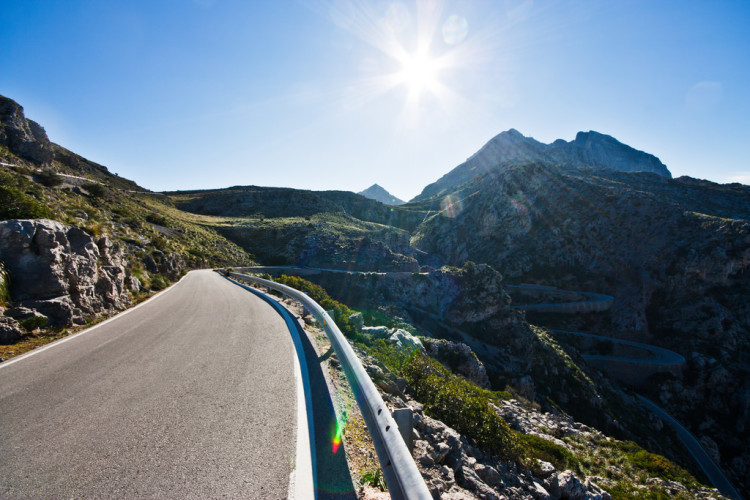 Serpentine roads and the beautiful Sa Calobra and Torrent de Pareis at the end, the Tramuntana requires care and precision from drivers, and daring from bikers. The long stretch that was constructed in the 1930's by Antonio Parietti is perfect for the adventurous, taking you up and down, this way and that. Warning, not very good for the nauseous or faint hearted, but a thrill for the adventurous with the beautiful Sa Calobra at the end as a reward.
[divider style="thin" title="" text_align=""]
2 | Sa Colabra
This hidden beach cove in the Northwest of Majorca can only be accessed by way of the Tramuntana (and a small 200 meter tunnel) or by way of the Torrent de Pareis. It is perfect for picnics and swimming.
[divider style="thin" title="" text_align=""]
3 | Torrent de Pareis
Only for the fit and strong, the Torrent de Pareis is a few kilometres long with mountains reaching up to 400 meters in height and some gorges that sometimes never see the sunlight. The Torrent de Pareis means 'twin streams' and is perfect for abseiling, hiking and climbing. This torrent starts at the joining together of the Gorg Blau and the Torrent de Lluc, but at the end of it you are rewarded by the beautiful vision of the Sa Calobra cove.
[divider style="thin" title="" text_align=""]
4 | Cap de Formentor Light House
Cap de Formentor is also at the North end of Majorca accessed by the winding Tramuntana and houses a breathtaking lighthouse that is the highest in the Balearic. It has beautiful views of Alcudia and Pollenca.
[divider style="thin" title="" text_align=""]
5 | Santuari de Lluc
Portrayed as a national symbol, the Santuari de Lluc is a famous church dating back to the 13th Century. Housed in Esorca atop a mountain in the middle of the woods, it also offers accommodation for backpackers and guests seeking a few days of spirituality and soul searching.
[divider style="thin" title="" text_align=""]
6 | Castell de Capdepera or Capdepera Castle
Nestled atop a hill, the Capdepera Castle was founded in the 13th century and the surrounding hillside is still home to many residents. The short walk to the castle is a bit steep but well worth it. The castle houses a church called Our Lady of Hope that was instrumental in protecting the villagers from danger. Some parts of the castle are still being evacuated to date.
[divider style="thin" title="" text_align=""]
7 | Cala Mesquida Beach
A short distance away from the Castell Capdepera is the Cala Mesquida beach. The pine trees and sand dunes, beautiful waves, and pearly sands are protected for the variety of birds that live here. For those who enjoy the freedom of life, the far right side of the beach on the other side of the dunes is a nudist beach.
[divider style="thin" title="" text_align=""]
8 | La Seu or Palma Cathedral
Located close to the sea in Palma, this Gothic cathedral was built by the King Jaume of Aragon in 1229 after he was saved by a storm at sea. Featuring one of the world's largest rose window's, it is definitely a must see.
[divider style="thin" title="" text_align=""]
9 | Cuevas del Drach "Dragon Caves"
The famous limestone caves located in Porto Cristo, in Western Mallorca are called the Cuevas del Drach or Dragon Caves. They consist of 4 large caves that are connected to each other and extend about 4 kilometers in length, contain an underground lake and striking formations of stalactites and stalagmites. Visitors also get to see a 10 minute boat show with beautiful music just before exiting the caves.
[divider style="thin" title="" text_align=""]
10 | Santuari de la Mare de Déu del Puig
Near the rustic town of Pollenca is a small hill atop which lies the Puig de Maria or the Santuari de la Mare de Déu del Puig. The 2 kilometres uphill climb takes a good 45 minutes to an hour. As you climb and breathe in the crisp fresh air, you distinguish the smell of pine and are rewarded with beautiful views of Pollenca and Alcudia all the way up. You'll find a restaurant at the top, along with some basic accommodation.
[divider style="thin" title="" text_align=""]
11 | Bellver Castle
A 45 minute walk from Palma Cathedral, or a short 10 minute drive, the Bellver Castle is a 14th century fortress that gives you amazing views of Palma Bay and fills your nose with the fragrance of pines. The castle is unique in Spain for being completely round, with round arches built by the same architect that worked on the Almudaina Palace, Pere Salva.
[divider style="thin" title="" text_align=""]
12 | Eat Paella
Okay, maybe you have eaten paella before, but Majorcan paella is different. It's rich, it's lush, it's a must have. You can get it at almost any restaurant. But if you're lucky, you'll befriend a local who'll invite you over to dinner and give you a taste of some amazing homemade paella.
[divider style="thin" title="" text_align=""]
13 | Port de Soller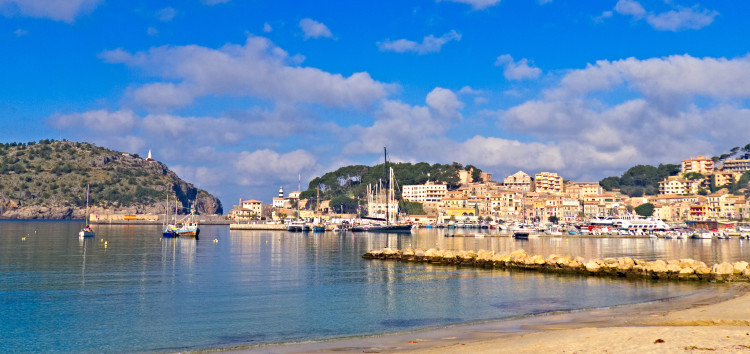 This western Majorcan harbour is shaped like a horseshoe, which makes it a pleasure just to look at. But Port the Soller is also close to the beautiful rustic town of Soller, the Cap Gros lighthouse and the Soller botanical gardens.
[divider style="thin" title="" text_align=""]
14 | Cycle
You can either rent a bike or get your own bike along and get cycling. Almost every few minutes on the road, you run into another cyclist. With so many different types of roads, straight and winding, uphill and downhill, Majorca is a cyclist's haven.
[divider style="thin" title="" text_align=""]
15 | Indulge in Water Sports
The clear waters of Majorca are perfect for all types of water sports, from sailing and surfing to snorkelling and diving, from kayaking to paddling… You name it, Majorca's got it! There are plenty of outlets near most beaches to hire swimming gear or to book trips, most of which are also easily accessible on the internet. I tried kayaking at Cala Blava for the first time. and it turned out to be quite eventful. Came away with so many bumps and bruises, but loved it!
Majorca has so much more that can be done, but that's a story for another blog. Now that you've read my list of 15 things to do in Majorca, let me know what you plan to try first!
Images via 0 | 1a | 1b | 3 | 4 | 5 | 6 | 7 | 8 | 9 | 10 | 11 | 12 | 13 | 14 | 15