Looking for things to do in Lombok, Indonesia?  You've come to the right place, my travel-loving friend.
Not only is Lombok full of beauty, it's an easy trip from Bali, and definitely not as crowded.  With lush greenery, magestic waterfalls, and more scenic beaches than you can imagine, there's no shortage of things to do in Lombok.  Since I haven't had the opportunity to visit yet, (although it now holds a firm spot on the bucket list), I've asked my friend Melissa from Thrifty Family Travels to fill us in on this little slice of paradise.
I'm sure you'll be pricing out flights and bathing suit shopping after reading about these things to do in Lombok – I sure was! 😉
[divider style="thin" title="" text_align=""]
Lombok Pre-Travel Guide
When to go
Lombok is ideal to visit at any time of the year. All year round you can expect Lombok to be tropical, warm and humid, although there are two distinct seasons – Dry and Wet. Year around you can except temperatures to be around the high 20's c to low 30's c with minimum temperatures not really getting below the mid 20's.
October through to April is the wet season – but don't be put off traveling during this season – basically it rains fairly heavily for short periods of time each afternoon – almost on queue.
How to get around
On the mainland of Lombok the best way to get around is via motorbike, taxi or car. On the Gili Islands there is no motorized transport so the only way to get around is via bicycle, foot or by Cidomo (donkey and cart).
Important things to pack

Given the warm temperate of Lombok all year around, it is best to pack clothes that will keep you cool.  On the islands most people wear swimmers with cover ups almost all the time regardless of where they are going, whilst on the mainland it is best to wear shorts and t shirts when leaving your accommodation.  There is certainly no need to bring your best clothes though.
Where to stay in Lombok
Most people visiting Lombok either stay on the mainland or on one of the Gili Islands.
On the mainland, the main tourist hubs are Senggigi or Kuta.  Whilst Senggigi has nicer resorts with first class facilities, Kuta is better located for all the fun things to do in Lombok.  It is recommended that you base yourself in Kuta when exploring Lombok and Senggigi when you want to have a few days relaxing.
In Kuta check out Yuli's Homestay; whilst in Senggigi the Holiday Resort is a gorgeous place to stay.
If you stay on the Gili Islands you will need to choose between the quiet Gili Meno, party island of Gili Trawangan, or the somewhere in between Gili Air.  If staying on Gili Air check out Turtle Beach Hotel.
Read Next: Where to Stay in Lombok
[divider style="thin" title="" text_align=""]
Things to do in Lombok
1. Senggigi

Senggigi is where you will find all the first-class resorts and a variety of restaurants and beach side bars.  One of the best things to do in Lombok is to find a comfy bean bag at one of the trendy Senggigi beach side bars just before sunset.  Grab yourself a cocktail and get ready for a gorgeous sunset.  After sunset stay on for a few more drinks, some cool tunes and a delicious meal.
[divider style="thin" title="" text_align=""]
2. Ashtari Restaurant and Lounge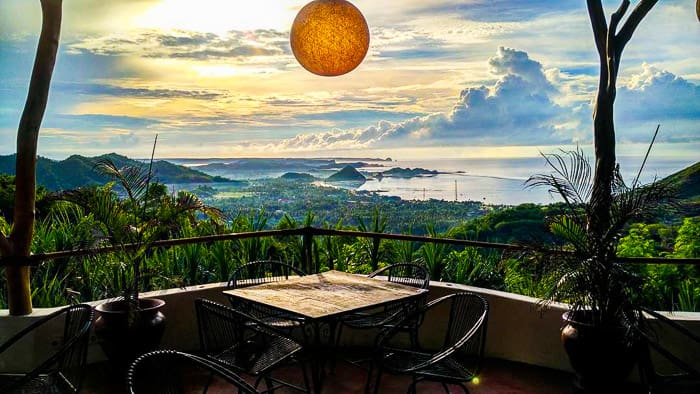 Ashtari is very popular restaurant and also holds yoga classes.  Ashtari is located inland from Kuta, high up in the mountains with views to die for!! The vibe is cool and laid back making for a great place for lunch for some drinks as you lounge about on bean bags.
[divider style="thin" title="" text_align=""]
3. Trek Mount Rinjani
One of the more adventurous things to do in Lombok is to trek to the top of Mount Rinjani.  Mount Rinjani is the second highest volcano in Indonesia and to reach it is best to on this day trip.  The views from the top are spectacular and well worth the hike to the top.
[divider style="thin" title="" text_align=""]
4. Kuta Beach
Not to be confused with Kuta Beach in Bali, Kuta Beach in Lombok is one of the main tourist hubs in Lombok and a great area to base yourself for the things to do in Lombok.
Kuta has a lovely village vibe, with tiny guest houses for accommodation among rustic style warongs.  The beach here is stunning and is ideal for both swimming and surfing.
You will find lots of locals here selling drinks and small food items, they are also super keen to have a chat and get to know the tourists.
[divider style="thin" title="" text_align=""]
5. Gili Nanggu
Definitely one of the best things to do in Lombok is a day trip to Gili Nanggu.  This island is absolutely heaven on earth, with water so clear you can see your toes when standing in shoulder deep water.  There are so many colourful fish here you will think you are swimming in an aquarium.
To get to Gili Nanggu you can join a tour or get yourself to Tawun Harbour and arrange for a local to take you over in their fishing boat.
Be sure to also check out the nearby islands Gili Sudak and Gili Kedis – this is one day trip not to be missed.
[divider style="thin" title="" text_align=""]
6. Spend some time at your resort
If you are staying in a nice resort then you should make the most of the first-class facilities.  Spend time swimming in the pool, sunbathing, be pampered in the day spa, join a yoga class, be served lunch by the pool, have cocktails at the pool bar and enjoy a delicious dinner by the beach.
[divider style="thin" title="" text_align=""]
7. Spend a few days on the Gili Islands
Located only 20 minutes by boat from the mainland, spending a few days on one or all of the Gili Islands is a must.  The Gili Islands is made up of Gili Air, Gili Meno and Gili Trawangan; whilst all islands are very similar in their landscape and the activities they provide, each island has its own personality.  Popular activities on the Gili Islands include swimming, snorkeling and relaxing.
Interested in going snorkeling on the Gili Islands? Check out this on this day trip, where you'll get to snorkel at each one all in one day!  Did someone say swimming with sea turtles? Sign me up!
[divider style="thin" title="" text_align=""]
8. Tanjung Aan Beach

Tanjung Aan Beach is absolutely stunning with its white sand and turquoise sea.  While you are there climb the rock in the centre of the two bays which make up Tanjung Aan Beach for a spectacular view.
On the beach, itself there is absolutely no development here except for a few rustic warongs.  The beach is pure white soft sand and the water is a stunning turquoise green.  The waves are gentle and beautiful for swimming.
Further out in the bay is great for surfing, so you will spot quite a few surfers here as well.
Whilst you are there, check out the super cool Warung Turtle for some lunch and Bob Marley tunes.
[divider style="thin" title="" text_align=""]
9. Explore the Waterfalls
As well as gorgeous beaches, Lombok has some wonderful waterfalls to explore in the north of the island.  The most popular waterfalls to visit are Tiu Kelep Waterfall and Sendang Gile Waterfall.  These waterfalls are close to each other so you can easily explore both.  Check out a bunch of waterfalls along the northern part of the island on this day trip – experience the culture and see how the locals live as well!
These waterfalls aren't just for admiring, so take your swimmers and jump in for a closer look!
[divider style="thin" title="" text_align=""]
10. Go Exploring on Motorbike
Lombok is an island full of spectacular natural beauty.  One of the best way to explore the island is by hiring a motor bike and setting off on your own.  As you ride around the windy mountain roads on the exterior of the island you will be rewarded with spectacular views across the ocean and lush palm trees as far as your eyes can see.
You can hire a motorbike for around 50,000 IRD per day and petrol costs around 10,000 IRD a litre.
If you aren't keen on riding a bike or you have a few kids– other transport in Lombok options include hiring a car, or a car and driver for the day.
Read Next: More Activities in Lombok
[divider style="thin" title="" text_align=""]
11. Sasak Village

The Sasak are the indigenous people of Lombok.  You can visit the Sasak Village just outside of Kuta to learn about their culture and traditional way of life.  If you be sure to take a guided tour to fully appreciate the village.
[divider style="thin" title="" text_align=""]
12. Pusuk Monkey Forest

Named after the numerous wild monkeys in the jungle that loiter by the roads waiting for tourist to throw them the odd piece of food.  If you decide to take a closer look at the monkeys, a word of warning – they have been known to snatch tourists bags and sunnies.
[divider style="thin" title="" text_align=""]
13. Selong Belanak Beach
Selong Belanak Beach is a massive wide and shallow beach again perfect for swimming and surfing.  While you are here check out the Laut Biru Café which is located right on the beach – the perfect location for some lunch whilst admiring the beautiful beach.
[divider style="thin" title="" text_align=""]
14. Mawun Beach
Yet another stunning beach in Lombok with its soft white sand and gorgeous turquoise water.  Mawun Beach is a small, somewhat secluded which means it quite often deserted.  There are often a few kids here trying to sell you bracelets and other small trinkets, but they are also keen to have a chat with you too.
[divider style="thin" title="" text_align=""]
15. Mataram
Mataram is Lombok's capital and the main business district.  Whilst there are not many tourist attractions within the city of Mataram, by wandering around the streets of Mataram tourists can get a glimpse into the day to day life of the local people of Lombok.
In Mataram you will find gorgeous old Dutch colonial style buildings as well as numerous mosques due to the population of Lombok being mainly Muslim.
[divider style="thin" title="" text_align=""]
Have you had the pleasure of visiting this little island paradise yet?  What were some of your favorite things to do in Lombok?