In order to experience true luxury while on holiday, you should consider embarking on a week-long yacht holiday. Whether you opt for a luxurious sailing experience where you can socialise with the most glamourous celebrities or you prefer a more hands-on yacht experience, you'll have plenty of options to choose from.
There are so many amazing countries to visit on a yacht holiday , so it can be hard to narrow it down to the very best. Many European countries offer ample yacht holiday opportunities due to the stunning climates, breathtaking scenery and archaic history and architecture.
In this post I will talk about 3 amazing countries to visit on a week-long yacht holiday. Make sure you've packed everything you need for an amazing sailing holiday!
Greece
Greece is a truly stunning Mediterranean country that's idyllic for a week-long yacht holiday. With its abundance of Greek Islands that are scattered across the Mediterranean ocean, you're sure to have a wonderful time on a yacht holiday in Greece.
The unique islands all have their own distinct charm, making it a perfect place to enjoy sailing around for a week. You can explore the ancient town of Athens and learn about some of the Ancient Greek Gods. Athens is also home to the world-famous Acropolis, Pantheon and plenty of museums that will satisfy your cultural needs.
The relaxed environment of a yacht holiday will fit in perfectly with the serenity of the Greek Islands. Whether you stop off in Athens, Corfu or Rhodes, a yacht holiday in Greece is sure to be a once in a lifetime trip.
The stunning turquoise waters will ripple beatifically as you sail across the ocean towards your island destination. Indulge in a refreshing glass of wine while you admire the spectacular surroundings from your yacht.
You can also take part in a number of water-based activities while indulging in a week-long yacht holiday in Greece. There are always plenty of snorkelling, cliff diving and jet skiing opportunities to take part in. The crystal clear water and the scorching temperatures will provide you with the perfect setting to enjoy many activities while in Greece.
A luxurious week in the Mediterranean Sea onboard a stunning yacht charter will ensure you have the most memorable holiday possible. The elegance and sophistication that comes with travelling around Greece on a yacht will ensure that you feel like royalty!
Croatia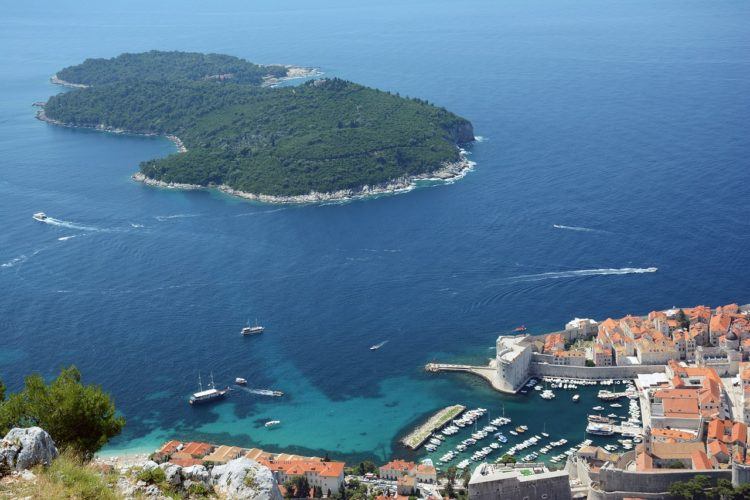 The beautiful Balkan country of Croatia consists of more than a thousand islands, so you'll be truly spoiled for choice when embarking on a yacht holiday in Croatia. There's over 1,100 miles of coastline that consists of an abundance of bars, restaurants, beaches and quintessentially Croatian towns.
Whether you decide to spend time on some of the best beaches in Dubrovnik, Split or Zadar, you're sure to have the most enjoyable time. While sailing around the Dalmatian coast, make sure you make the most of the stunning sunshine by unwinding both on deck of the yacht as well as when you dock near an island.
While sailing around the islands, you may even get to experience some of the best tourist attractions in Croatia! For Game of Thrones fans, there are plenty of filming locations to explore such as the infamous 'King's Landing' site in Dubrovnik.
You don't even actually have to step of the yacht in order to have an amazing holiday experience; the surroundings of the islands in Croatia are enough entertainment as it is. The stunning landscapes, lush blue ocean and gorgeous beaches will make for the most incredible photo opportunities.
Croatia is also home to some of the best UNESCO World Heritage sites such as Diocletian's Palace in Split. There's also plenty of delicious cuisines for you to try while on your trip.
A yacht holiday will also allow you to try out new activities that you may have discarded otherwise. From jumping off the yacht into the clear blue waters, to snorkelling in the surrounding vicinity, there's so much to enjoy and benefit from a week-long yacht holiday in Croatia.
One of the most popular places to dock your yacht in Croatia is at the island of Hvar where you'll find beautiful fishing villages and hidden caves and coves to explore.
France
The southeast coast of France is yet another stunning country you should consider exploring while on a week-long yacht holiday. There's plenty of unspoiled islands to explore as well as the more traditional places such as Nice, Saint-Tropez and Cannes.
The French Riviera is considered to be one of the most romantic places in the world, with a coastline consisting of beautiful beaches, rocky shores and magnificent French towns.
France is also world-renowned for serving some of the best cuisines in the world, so you can rest-assured that you'll be very well fed while on your yacht holiday in France. From hearty baguettes to decadent macarons and pastries, the food in France is sure to be some of the best you've ever eaten!
The views from your yacht of the French coastline will also be absolutely stunning and will provide ample photo opportunities. The glamour of the French Riviera will make you feel like royalty and with the sun shining down as you coast around the beaches, you're sure to have the best time.
The French Riviera is also considered to be the most popular charter destination in the world due to its beautiful climates and dynamic vibrancy. There are also plenty of incredible events and occasions throughout the year to enjoy while on a week-long yacht holiday, depending on the time of year you visit.
From Cannes Film Festival, to a plethora of beach clubs and celebrity events, a yacht holiday in France will be nothing short of luxurious and elegance. France is also known for its bountiful history and culture so make sure you get to experience the full package while cruising in the sea breeze around the French Riviera.
Stunning coastlines will give you plenty of opportunity to dock your yacht and explore the likes of Nice and Cannes which are considered to be home to some of the most luxurious resorts in the French Riviera.
When booking a week-long yacht holiday, there are a lot of things to take into consideration; most importantly, which country you plan on sailing to/around.
There are so many countries to choose from that are all amazing, but all offer slightly different opportunities and experiences.
If you visit the French Riviera in France on a week-long yacht holiday, then you can be assured that you'll experience some of the best food in the world. You'll get the chance to try quintessentially French cuisines such as escargot, baguettes and all the wine you can consume!
For a more tourist experience on your yacht holiday, head to Croatia where you'll get to see some stunning ancient architecture as well as the filming locations of a number of popular TV series and movies.
Greece will allow you to feel like a princess as you saunter along the Greek coastlines, tucking into gyros and tzatziki, all the while absorbing the spectacular sunshine and breathtaking views.
Whichever amazing country you decide to visit on your week-long yacht holiday, make sure you consider all the various incredible destinations!