Looking for things to do in Havana Cuba? Well, my international-hopping friends, you're in the right place! Read on for some of the best things to do during a long weekend in Havana!
Cuba is on so many bucket-lists. Ever since those from the states were officially allowed to enter not too long ago, Havana has been a major hot-spot for many Americans – myself included. Since I've been spending so much time exploring elsewhere, I haven't made it down to this colorful country just yet. Therefore, I've asked my friend Kiona from How Not to Travel Like a Basic Bitch to share her favorite things to do in Havana with us all! Enjoy!
[divider style="thin" title="" text_align=""]
Havana Pre-Travel Guide
When To Go
Havana is sunny year round, so anytime is a good idea to visit – but never underestimate the Cuban sun. Because of this, the best time to travel to Havana is in the winter (November-March). The summer is scorching, while the fall brings numerous unwanted hurricanes. Plus, who wouldn't want to spend New Years Eve in Havana?
[divider style="thin" title="" text_align=""]
How To Get Around
There are many modes of transport in Cuba, but the most popular being the classic car. These cars have been maintained since the 1950's and sometimes even earlier, before the US Embargo prevented new vehicles from entering Cuba. The embargo is somewhat lifted and new cars with air conditioning populate the scene now. You can flag them down on any street or ask someone to call one for you. I mean, what's cooler than cruising down the street in a hot pink car?
Cheaper modes of transport include horse (yes, for real), bicitaxi, and taxi collectivo (or shared taxis). You can easily find these on the street. The taxi collectivo's pick up from airports, bus stations, and offer door-to-door pick up services if you call them. Couldn't be easier than that!
[divider style="thin" title="" text_align=""]
Important Things To Pack
SUNSCREEN. MOSQUITO NET. HOT SAUCE. Scccrp. What? Hot sauce?
Due to the embargo, many Cuban restaurants don't have the proper ingredients to make food really tasty, so sometimes hot sauce and ketchup are necessary. But word of advice – bring your own. Their ketchup or hot sauce may not taste like what you may be used to.
[divider style="thin" title="" text_align=""]
Where To Stay
The best places to stay in Cuba are called Casa Particulares, which are guest rooms in a Cuban family home. You can find plenty of these on AirBnB. [New to AirBnB? Sign up via THIS LINK to score up to $40 off your first stay.] This allows them to make more than the typical government salary of $25/month and also allows you a personal interaction with a Cuban family. (Anyway, the families cook better than the restaurants so you can guarantee you'll be eating lots of authentic Cuban meals and the kids are super cute!)
There are 3 major neighborhoods in Havana: Habana Centro, Habana Vieja, and Vedado. Habana Vieja is where all the touristy attractions are. Habana Centro is in the middle and where Habaneros live their daily lives. A lot of street watching happens here. But be warned, the buildings are crumbling and fall regularly. It's a good place to stay if you want to see what it's really like living in Havana. Vedado is on the opposite side of Habana Centro and used to be a wealthy neighborhood where rich Cubans lived prior to the Revolution. Now, the old mansions have been split up into multi-family dwellings. This is the less chaotic of all the neighborhoods.
If you can't wrap your head around staying with a local (but you really should), consider booking one of these hotels: Four Points by Sheraton (super awesome pool area), Hotel Saratoga (fancy schmancy), NH Capri Habana, or Melia Habana.
Read Next: Tips for Traveling to Cuba
[divider style="thin" title="" text_align=""]
Best Things To Do In Havana
1. Playas del Estes
What is a Cuban vacation without the beach? 30 minutes away by bus or 20 minutes by taxi, the beaches of Havana are absolutely stunning. The blue water is so inviting, and after a couple of coco locos you'll be sure to have a great time. The cost to travel by bus is 5CUC, the cost to travel by taxi is 25CUC. This is definitely one of the top things to do in Havana, I can promise you that! Just look at that water!
[divider style="thin" title="" text_align=""]
2. Fusterlandia
For all you art lovers out there, Fusterlandia is one of the coolest things to do in Havana. Jose Fuster was an artist that decided to transform his neighborhood into a mosaic wonderland. Tiling doors, windows, streets, bus stops, this entire neighborhood is an art piece. You can get there by taxi or taxi collectivo. The cost by taxi is 30CUC, the cost by taxi collectivo is 2CUC.
[divider style="thin" title="" text_align=""]
3. Watch The Sunset On The Malecon
Upon landing in Cuba, the first thing people may tell you to do in Havana is to see the iconic 5-mile long Malecon. The Malecon is a long seaside boulevard where young adults hang out to watch the sunset and older men stand on the sidewalk to fish. At night, sometimes you may catch a little dance party. Enjoy a mojito on the wall and watch the waves crash.
[divider style="thin" title="" text_align=""]
4. Drink A Mojito With Hemingway
Speaking of mojitos, for some reason people always want to follow the steps of famed author Ernest Hemingway who dedicated his Nobel Peace Price to the country of Cuba. His favorite mojito bar was Floridita in Habana Vieja. You can see where he liked to sit, while enjoying an overpriced mojito and live band.
[divider style="thin" title="" text_align=""]
5. Embrace Art At The Fabrica Del Arte
If you're trying to be less basic and overpriced mojitos aren't your thing, you can always head to the Fabrica del Arte. Fabrica del Arte is a transformed mill made into an art and dance place. 2CUC to enter and with mojitos served at the bar, you can drink, listen to music (which changes from room to room), watch a live concert, and peruse the art displayed on the walls by local artists. It's a must-see and one of everyone's favorite things to do in Havana for the artistic souls.
[divider style="thin" title="" text_align=""]
6. Shop On Calle Obispo
Calle Obispo is a long strip of shops that include hand-made souvenirs as well as book and clothing stores. The real treat is at the end, where it leads to the Plaza de Armas and you can see the Spanish buildings during colonial times. Many famous restaurants are in the area including La Bogdeguita del Medio.
Interested in learning more about Old Havana? Book a walking tour throughout Old Havana and visit some of the most iconic sights such as the Capitolio, Gran Teatro, Parque Central, Bacardi building, Art Museum, Calle Obispo, Plaza de Armas, Plaza de la Catedral, Plaza San Francisco de Asis, Plaza Vieja, and Hotel Ambos Mundos. All that in just 3 hours? You betcha. Bucket-list check.
[maxbutton id="1″ url="https://www.getyourguide.com/havana-l480/old-havana-walking-tour-t35548/?partner_id=ZTTLTQC" text="book tour" ] [divider style="thin" title="" text_align=""]
7. Visit a Cigar Shop
I guess you haven't quite made it to Cuba if you haven't learned how their cigars are made. There are cigar shops in the center of town and a few which will give you a tour and explanation of the process.
WHATEVER YOU DO, do not buy cigars from people off the street. Many people will stop you and say they are workers at the plant and have some cigars at their house, which they will put out from all corners of the earth. But seriously, no matter how real and convincing they may look, those are fake. Don't do it. (Trust me, I know. I did it.)
[divider style="thin" title="" text_align=""]
8. Day Trip To Viñales
If you're REALLY into cigars (or just a really cool person in general), head to Viñales. Not only does this city have the most beautiful landscape in all of Cuba, it's where the tobacco leaves are actually grown.
For 25CUC/person, you can take a horse ride through the tobacco fields with a personal guide that will teach you how to roll a cigar, let you smoke a complimentary one, teach you about the coffee plantations, and show you the caves around the city. This is also where you can purchase cigars direct from the farmer. The government takes 90% of his crop, leaving 10% of him to sell on his farm. So I highly recommend supporting the locals. Make sure to keep some time open when planning your things to do in Havana for a day trip to Viñales.
If you're a big planner like me, consider booking your day trip to Vinales in advance. You'll ensure that you actually make it there, which could be difficult considering how over-stimulating the entire city is!
[maxbutton id="1″ url="https://www.getyourguide.com/havana-l480/vinales-valley-t53484/?partner_id=ZTTLTQC" ] [divider style="thin" title="" text_align=""]
9. Learn about Santeria at Callejon de Hamel
Afro-Cubans are a major part of Cuba. Descendants of slaves brought over by the Spanish and French, Afro-Cubans have consistently been marginalized in society. However, they have found outlets via dance, art, and religion, having an entirely different culture all together. Learn about Santeria and watch a traditional rumba on Sundays in this colorfully decorated Afro-Cuban alleyway called Callejon de Hamel.
Extra interested? Learn lots more about this culture on a 2-Hour Afro-Cubans Walking Tour – sure to be the coolest culture in the entire city.
[divider style="thin" title="" text_align=""]
10. Scuba Dive (or Snorkel) in Bay of Pigs
So why were the U.S. and Cuba at heads with each other? That's not a question that will be answered here, but you can see the site where the U.S. ship was blown up. One of the most popular things to do in Havana is scuba dive and check out the marine life underneath the bay that so famously closed off the island to any outsiders.
[divider style="thin" title="" text_align=""]
11. Attend the Cuban Ballet
Admittedly, this is a little harder of the things to do in Havana. You must be in town on a Tuesday in order to stand in line to get your ticket. Then your ticket may be for a Saturday or Sunday, if you're lucky enough to have the Cuban ballet in town for a show. However, these dancers are WORLD-REKNOWN and it is well-worth the effort to see the arts flourishing in Cuba.
[divider style="thin" title="" text_align=""]
12. Dine At La Guarida
This restaurant was famously shown in the Oscar nominated movie "Fresa y Chocolate" and has become an attraction spot, despite the building slowly crumbling down. However, it is now being restored and has added extra floors to the top. Eat on white linen tablecloths overlooking the city and feel the breeze in your hair as you chow down on some truly delicious food. An absolute must-do in the city and one of the top things to do in Havana.
[divider style="thin" title="" text_align=""]
13. Learn About Rum At The Havana Club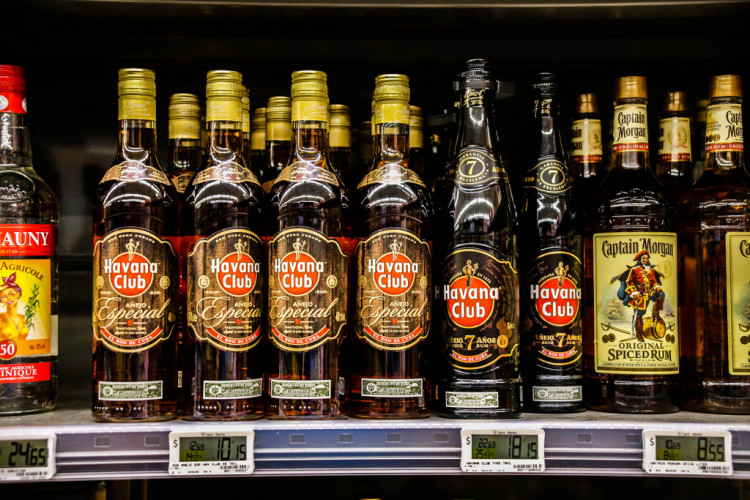 The Havana Club used to be where wealthy Cubans used to congregate and drink rum. You can learn about the process and types of Havana Club Rum made while soaking in the ambience of what used to be wealthy Cuba, pre-Revolution.
[divider style="thin" title="" text_align=""]
14. Ride In A Classic Car
This is arguably the number one thing people seek out to do in Cuba. I mean, have you been to Cuba if you haven't snapped a picture with a classic car? NO. These tours can be quite pricy depending on how restored the car is. However, hopefully you can catch a 30CUC negotiation, and be whisked away through the streets of Havana, onto the mansions of Miramar, the sweeping trees of the botanical gardens, and hang out with John Lennon in Lennon Park.
Want to secure a ride in advance? Book a 2-Hour 1950's Classic Convertible Tour throughout Havana and head to the best spots.
[maxbutton id="1″ url="https://www.getyourguide.com/havana-l480/classic-american-car-tour-of-havana-t35511/?partner_id=ZTTLTQC" text="book tour" ] [divider style="thin" title="" text_align=""]
15. Salsa Dance Everywhere

Without a doubt, one of the best things to do in Havana is to dance your ass off by salsa dancing! You have never ever ever ever been to Cuba if you haven't spent the whole night salsa dancing. And no matter how good you salsa, you'll never as good as the locals – just watch them move! Take a class or just dance on the streets, this is for sure the number one thing to do in Havana and all of Cuba.
Have you been to Cuba before? What are your favorite things to do in Havana?!
Photos via 0 | 00 | 000 | 1 | 2 | 3 | 4 | 5 | 6 | 7 | 8 | 9 | 10 | 11 | 12 | 13 | 14 | 15